Cinnamon Date Cookies
You'll love these cinnamon date cookies! Made with coconut cream and sweetened with honey, they're easy to make and fill your home with a wonderful cinnamon aroma while baking.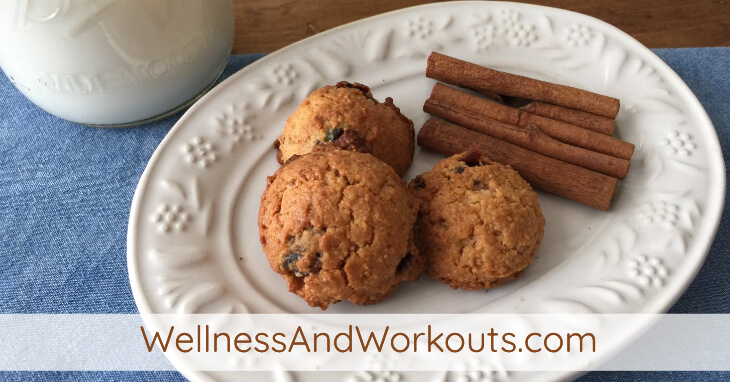 Disclosure: We may receive a commission if you purchase through links in this post.  
We are a participant in the Amazon Services LLC Associates Program, an affiliate advertising program designed to provide a means for us to earn fees by linking to Amazon.com and affiliated sites. For more information, see our disclosure page.

Healthy Date Recipes
When baking sweets, especially for your friends, family, and children, one of the most loving things you can do is to bake healthy treats.
Cinnamon Date Cookies are a healthy option.

If you want another healthy date recipe, don't miss our Cinnamon Apple Date Bars.
Coconut Cream Cookies
If you're into the healthy fats in coconut, you'll like the rich texture that coconut cream lends to this date cookies recipe.
If you like coconut, we've got lots of coconut-based gluten free dessert recipes here. 
Healthy Honey Cookies
This healthy date cookie recipe is sweetened with honey, and has no refined sugar added.
If you enjoy honey sweetened treats, be sure to check out these recipes with honey.
Gluten Free Date Cookies
These are naturally gluten free cookies, you don't have to make any ingredient swaps or adjustments if you need to avoid wheat or gluten.
Dairy Free Cookies

Again, these cookies are by design naturally dairy free. If you'd like more dairy free recipes, you might like this coconut custard recipe, and these coconut milk smoothies. 
Specialty Ingredients:
There's really just one unusual ingredient in this recipe:
Coconut Cream Concentrate.
You can find pre-made coconut cream here, or make it yourself. 
How to make Coconut Cream
You can make your own coconut cream by blending up lots (6 or so cups) of unsweetened shredded coconut in a high-powered blender with a Tablespoon of coconut oil for about 5-10 minutes.
You'll want to blend up at least 4 cups of shredded coconut at a time.
If you put too little in the blender, it stops blending without the weight of more coconut to keep pushing it through the blades.
  Relax, Color & Start Organizing Your Recipes, Today!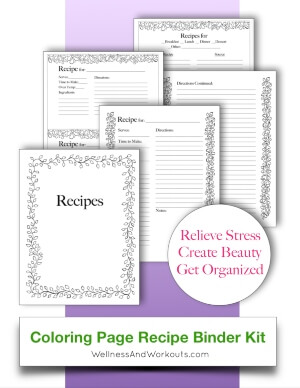 If you want a fun way to de-stress while organizing your recipes, check out this cute, printable coloring-page recipe binder kit I've created for you.

It'll help you relax and unwind while  organizing all your favorite recipes, beautifully! 
Must-Have Resources:
When making these cinnamon date cookies, you'll really need to have the following tools on hand:
Make it a Meal:
Do you find it helpful to make and use a meal plan? I find it always makes my days go more smoothly, when I have a good plan.

It stops so much decision fatigue!
Here are some easy healthy gluten free recipes I've assembled for you:
Main Dish: Pinchos de Pollo (chicken kebabs)
Grain: Gluten Free Bread Machine Recipe
Probiotic side dish: Homemade Sauerkraut--see How to Make Sauerkraut (plan to start this a week or so ahead of time)
Refreshing Smoothie: Choose from this selection of Healthy Green Smoothie Recipes
Healthy Date Cookies Recipe
Cinnamon Date Cookies
Prep time: 15 M
Cook time: 20 M
Total time: 35 M
Ingredients:
1 cup honey
2 eggs
3 cups coconut cream concentrate
1 1/2 cups dates (chopped)
1 Tablespoon cinnamon
Instructions:
In a food processor, blend together honey, eggs, coconut cream concentrate, and cinnamon.
Chop the dates into small pieces and fold into the batter.
Spoon 1/8 cup scoops of cookie batter onto a stoneware baking sheet about an inch apart and bake at 350 degrees F till done--about 15-20 minutes.
When done baking, immediately remove to a cooling rack and once cooled, enjoy!
Nutritional Info. for each individual cookie made with a (1/8 cup) scoop.
---
---