Apple Cinnamon Date Bars (AIP/GAPS)
These apple cinnamon date bars are a wonderful treat for anyone--but especially those of us on healing diets like the Paleo and the GAPS Diet. They are easy to make (no-bake), and nut-free. They are a lot like Lara Bars, but fresher and better tasting. Thanks to my 17 year old daughter for creating this wonderful recipe! 
Disclosure: We may receive a commission if you purchase through links in this post.  
We are a participant in the Amazon Services LLC Associates Program, an affiliate advertising program designed to provide a means for us to earn fees by linking to Amazon.com and affiliated sites. For more information, see our disclosure page.

Why I Prefer Home Made Date Bars
When we first discovered Lara Bars at our local grocery stores, I was SO HAPPY! They aren't the perfect food while on the GAPS Diet, though they can be a pretty good choice in a pinch.

But then, I learned a few things that sent some rain on my parade. 
First, Lara Bars can be a nice convenient snack to pick up when out and about, but when I have my six children along for the ride, the cost of just one bar each adds up very, very fast!
Second, I learned that the company that makes Lara Bars is one of the big food conglomerates that supports legislation that tries to prevent GMO "foods" from being labeled. I REALLY hate to support these companies, and am happy whenever I can avoid buying from them.
Third, I started having trouble digesting nuts that are not first soaked or sprouted. Plus, one of my children is allergic to peanuts and tree nuts. So he can never eat the Lara Bars, anyway.
Finally, my children started experimenting with making our own Date Bars at home, which taste SO MUCH BETTER, so much FRESHER, than the prepackaged bars at the store. And it is easy to make nut-free versions! Or at least soak the nuts first, for those of us who are not allergic to them. The difference is night and day, and it is so easy to make these from scratch!
Apple Cinnamon Date Bars
Ingredients:

3 1/2 cups pitted dates
1 1/2 cups coconut flakes 
1 teaspoon cinnamon
1-2 apples, fresh or dehydrated
Optional:
1 cup pitted cherries
Directions:
     Add coconut flakes, dates and cinnamon to cuisinart and blend until throughly mixed. Than, cut the apple into small chunks and add by hand into mixture. You can also use dried apples. Get your baking dish (I used a 8" by 6" glass Tupperware) Smash the mixture until smooth on the top. (It's really messy doing this by hand, but it's the quickest way.) Sprinkle some cinnamon on top if desired, and refrigerate until cold.
For Cherry variation:
Skipping the cinnamon, add the dates, coconut and blend until throughly mixed. Then add 1/2 cherries and blend. It won't blend perfectly, so you'll have to mash it a bit with your hand. than add 1/2 (or more is you wish) whole cherries and mix by hand. Continue as for Cinnamon Apple Bars...

And that is how to make apple cinnamon date bars!
Get more delicious Gluten Free recipes like this to feel better! Click "Next" now!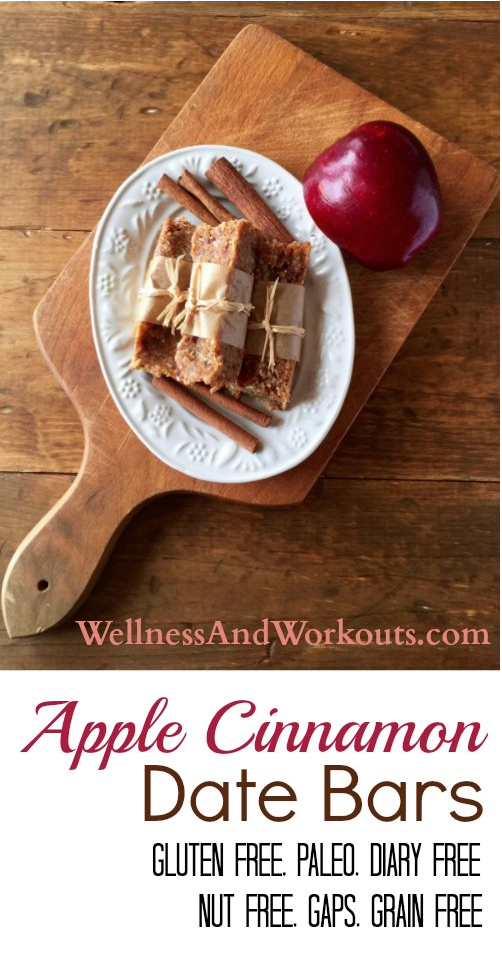 You might also like:
Related Posts:
---
---