Health & Fitness Printables
Health and Fitness Printables
I have created a number of health and fitness printables to help you succeed on your fitness journey. They are designed to equip you and motivate you to stay consistent and help you get back on track when necessary.
Until now, I've had them scattered around my site. This is the place to come to to find them now!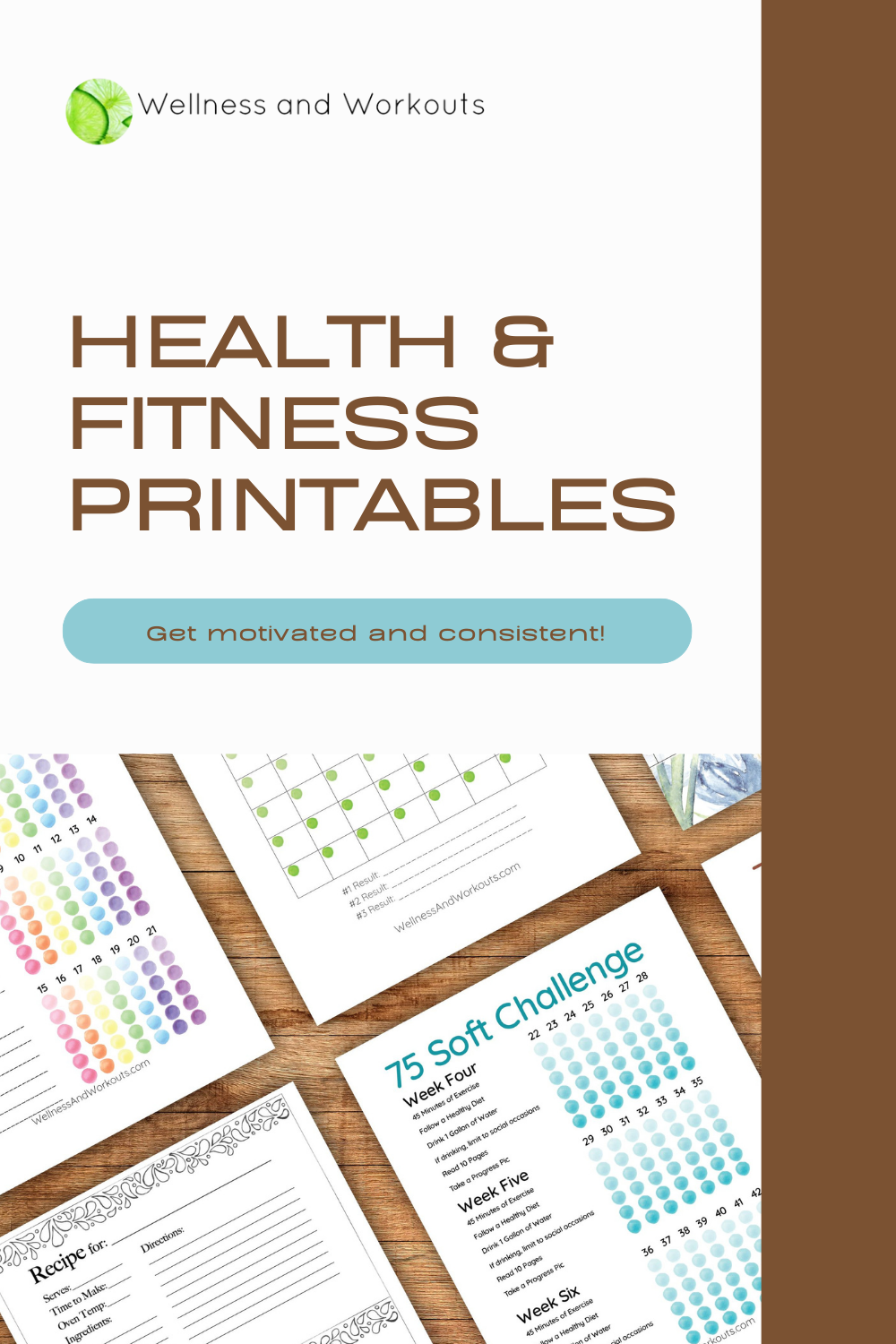 Disclosure: We may receive a commission if you purchase through links in this post.  
We are a participant in the Amazon Services LLC Associates Program, an affiliate advertising program designed to provide a means for us to earn fees by linking to Amazon.com and affiliated sites. For more information, see our disclosure page.

Printable Body Measurement Chart
The most popular printable you'll find here at Wellness and Workouts is this printable body measurement chart. It is specifically designed for women, and can be a huge motivator to keep going, especially when your scale happens to lie to you!
Illustrated Printable Body Measurement Chart
I've recently designed some new illustrated printable body measurement charts in a variety of colors.
They're helpful health and fitness printables because they help to show you where you should put the tape measure on a silhouette of a female body.
Health and Fitness Journal PDF
This Health and Fitness Journal PDF is both a fitness tracker and gratitude journal. 
It has a Thanksgiving theme and comes in Fall colors.
Printable Weight Loss Tracker - Jar Coloring Page
Check out this really cute printable weight loss tracker jar coloring page for you to record when you lose 15 pounds.
Just color in one star for each pound lost, till the jar is full of colored stars!
75 Soft Challenge Checklist
Many people are taking on 75 Day Challenges lately--the Hard 75 Challenge, the Medium 75 Challenge, and the Soft 75 Challenge.
I've designed my 75 Soft Challenge Checklist to help you reach your greatest level of success as you go on your fitness journey.
75 Hard Challenge Printable Planner
If you're interested in taking on the 75 Hard Challenge, this 75 Day Hard Challenge Checklist is just the thing you'll need to help record your progress.
Printable Recipe Binder Coloring Page Kit
One of the best ways to improve your health is to cook from scratch. Most convenience foods and processed foods today contain chemicals that are metabolic disruptors.
What this means is that it can be very difficult if not impossible for many of us to succeed with our health goals, especially weight loss, unless we learn to cook our own foods at home.
For these reasons, this kit certainly qualifies as a terrific set of health and fitness coloring pages.
So why not give yourself the gift of a cute recipe binder in which to store your healthy recipes as you collect them?
This recipe binder kit has coloring page borders, so it will look great and match your favorite colors or your kitchen decor--and it won't use up lots of printer ink like other cute printables may.
Printable Food Tracker
I created this printable food tracker as a simple way to record what you've been eating.

It's very helpful to use along with the printable body measurement chart to see which foods you ate during the times you had success, to encourage you to keep eating that way. (Or to see which foods may have contributed to a lack of success, as well).

It is currently available free of charge in my shop.
Meal Planner and Grocery List
If you'd like to find a way to save money and your sanity all at the same time, I highly recommend this Meal Planner and Grocery List.

It helps take the stress out of meal planning!
Printable Weekly Workout Logs
If you want to help to get motivated and stay motivated with doing regular workouts, these attractive weekly workout logs are designed to help you see the quick wins you experience with each workout. 

Designed in a variety of colors and styles, you're sure to find one just right for you!
Printable Workout Calendars
One of my biggest motivators when I was first getting back into working out regularly after injuring my back was recording my daily workouts on a simple calendar. 
These printable workout calendars are valuable health and fitness printables and come in a variety of colors and can be printed month after month to use again and again.
Health and Fitness Printables
To see more health and fitness printables as I add them to my website and shops, keep checking back to see this page. 
You can also follow my Wellness and Workouts Etsy Shop and Etsy will notify you when I add new products.
---
---