Enter to Win Printable Giveaways Here!
Printable Giveaways
Enter to win Printable Giveaways here on this page! Just scroll down to read about the current health and fitness printables you can enter to win, plus organizing printables, then follow the simple instructions for the current giveaway, below.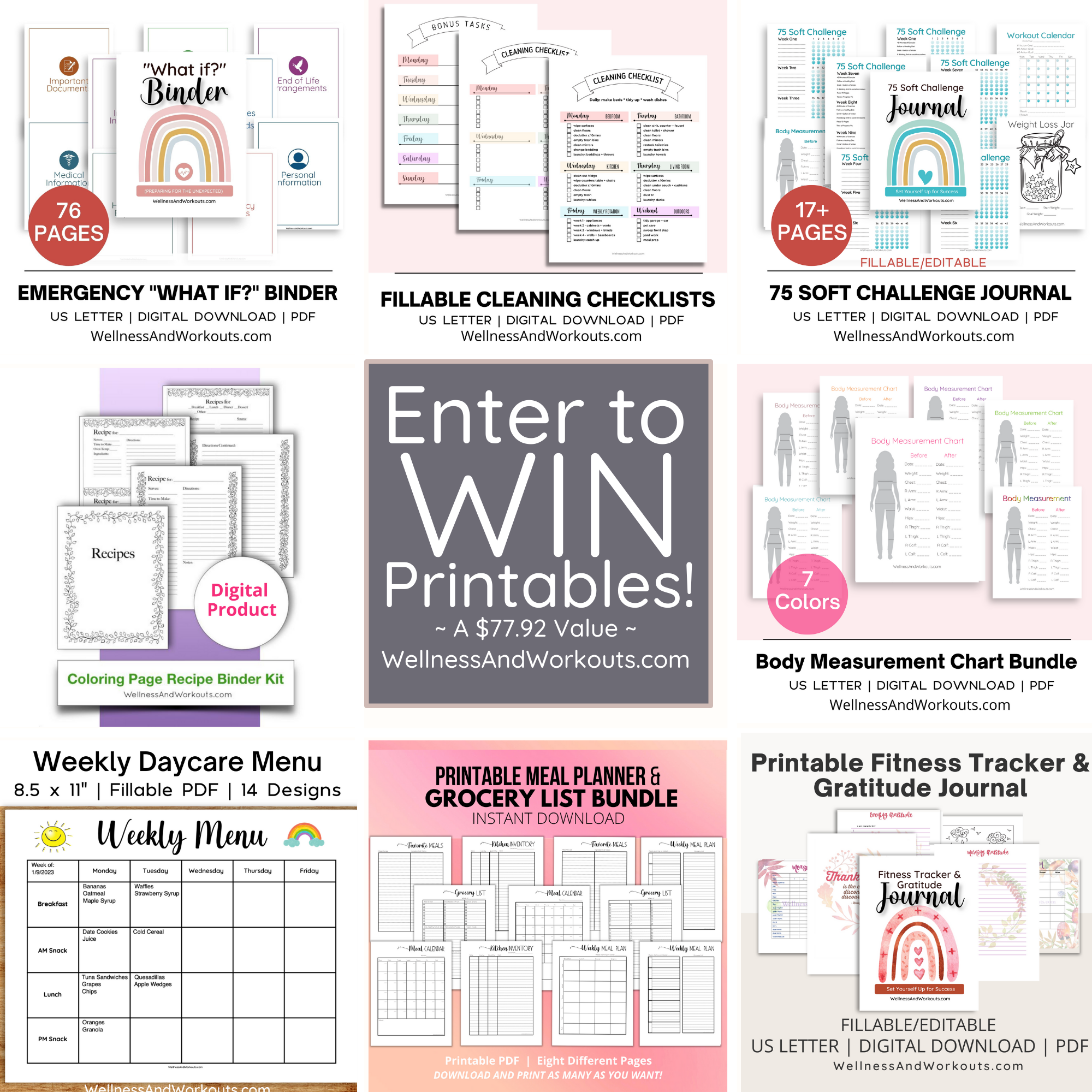 Disclosure: We may receive a commission if you purchase through links in this post.  
We are a participant in the Amazon Services LLC Associates Program, an affiliate advertising program designed to provide a means for us to earn fees by linking to Amazon.com and affiliated sites. For more information, see our disclosure page.

What are Fillable Printables?
Some of the printables offered in this giveaway may be fillable (also called "editable," sometimes). What does that mean? 
It means that in order to fill in the blanks with words in these PDF files, you can actually type into them on a desktop device. 
How?
You can simply open the fillable printable files in free software such as Adobe Acrobat (or the Preview App on Apple desktop devices). 
Once open in either type of software, you can type the words into the forms. This allows you to either:
use the form entirely on your device, which saves paper, ink, and the money needed for paper & ink, or
type in the forms before printing, so the writing is neater and more legible than handwritten words.
Here are some of the printable products included in the current giveaway:
Health and Fitness Printables
In Case I Go Missing Binder/Emergency Binder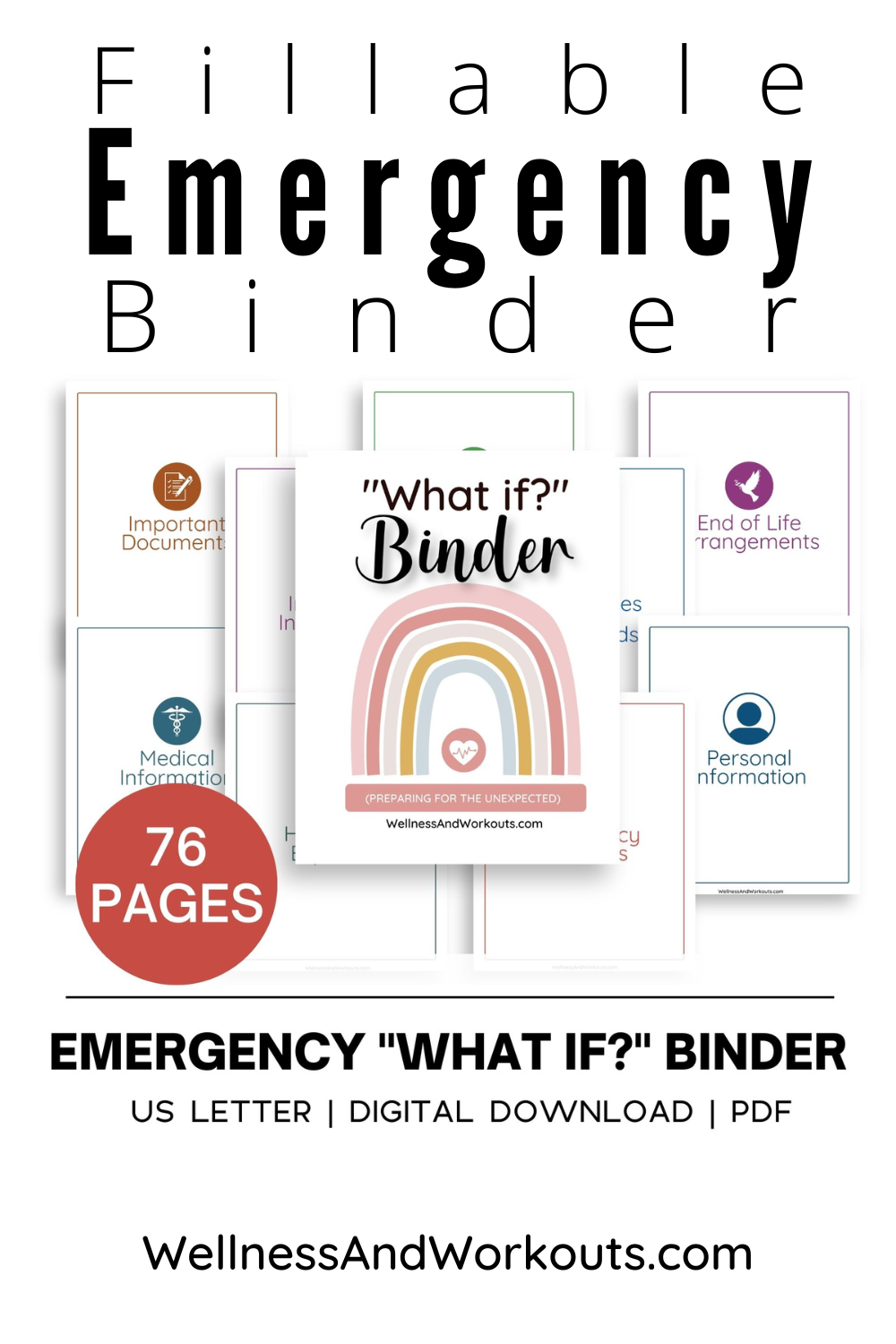 This Boho Rainbow In Case of Emergency Binder has everything you need to make sure your family has all of its important information kept in one place.



Have you ever asked yourself, "what will my loved ones do if I go missing?"

How would your loved ones function without you?

Take the time now to relieve stress for yourself and your family in the future.

This 76 page printable planner will help you plan for any "what if?" scenario. Keeping your information in one place is so important.

Print your product, write in all of your information, and keep in a binder so that your loved ones know where to find important details about your life when necessary.

Read more about these Emergency Binder Printables, or buy them now here.
Fillable Cleaning Checklists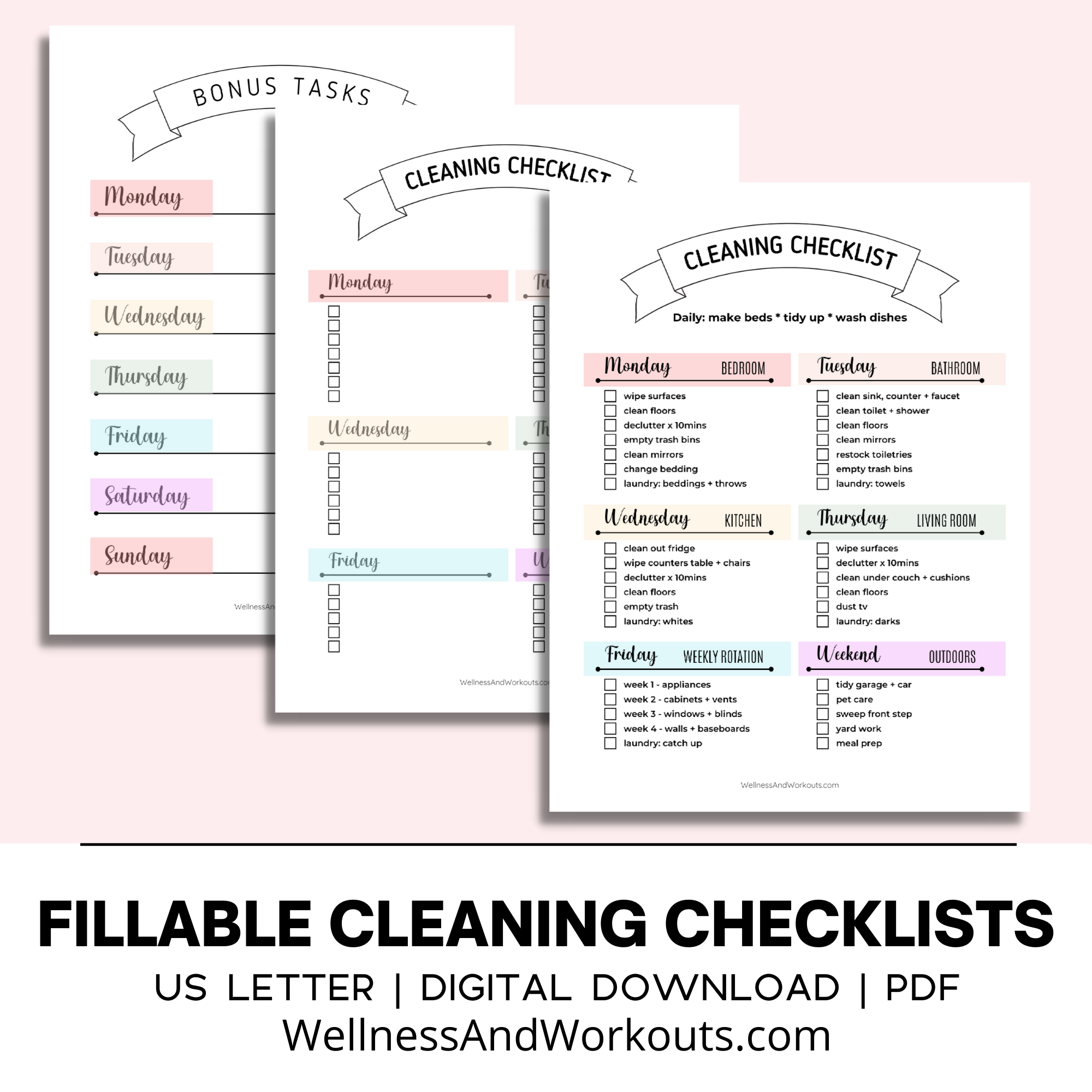 Our Fillable, Printable Cleaning Planner is designed to make your cleaning routine efficient and organized!

Cleaning your house can make it easier to function well in your life, lift your spirits which helps your mental health, and even let you burn calories as you clean. Did you know many cleaning tasks can help you burn between 100 to 300 calories per hour?!

These planner pages features a colorful pastel rainbow design, with ample space for you to track your cleaning tasks on a weekly, monthly, and seasonal basis. With its printable format, you can easily print out as many copies as you need, and customize the tasks to fit your unique cleaning needs.

The planner includes sections for:

➤ daily/weekly cleaning tasks,
➤ deep cleaning (bonus) projects, and
➤ space for notes and reminders.

Whether you're a busy mom juggling work and home life, or just looking to stay on top of your cleaning game, our Printable Cleaning Planner has got you covered.

Plus, by using this planner/checklist, you'll be able to take a more mindful approach to cleaning and gain a greater sense of accomplishment as you check off each task. It's the perfect way to stay organized, reduce stress, and keep your home looking its best!

75 Soft Challenge Journal 
Set yourself up for success with this 75 Soft Challenge Tracker Bundle. Create your own 75 Soft Challenge Journal by selecting the pages that will help you the most.

All pages are fillable PDFs. This means you do NOT have to print them to fill the words in--just open each file in either Adobe Acrobat or preview software and type in the spaces to fill in the blanks. Then, you can track how you're doing in the 75 Day Soft Challenge either on your computer, or print out the pages and track by hand.

This bundle includes:

- One four-page set of pre-filled 75 Soft Challenge Tracker pages, in teal
- One four-page set of blank 75 Day Soft Challenge Journal pages, in teal
- One teal Illustrated Body Measurement Chart
- One teal Workout Calendar
- One black & white minimalist Workout Tracker/Workout Log
- One black & white Mason Jar Weight Loss Tracker Coloring Page, for tracking up to 15 pounds or 15 kilograms in weight
Printable Recipe Binder Kit
Introducing our new Printable Leaves, Hearts & Splashes Recipe Binder Kit.

This kit will allow you to get control of your recipes ONCE AND FOR ALL. Imagine having all your healthy recipes in one place and knowing precisely where to find them. It will make meal planning a breeze!

This recipe binder kit includes 9 printable pages:

- front cover,

- back cover,

- 3 sizes of binder spines,

- 5 different recipe pages each with different features, and

- a recipe index.

Each printable page has a border to customize with your favorite colors, if you'd like. Or leave them black and white! 

The perfect tool for fueling your motivation, lifting your spirits, getting more organized in a fun and creative way, and helping you transform your health.

Body Measurement Chart Bundle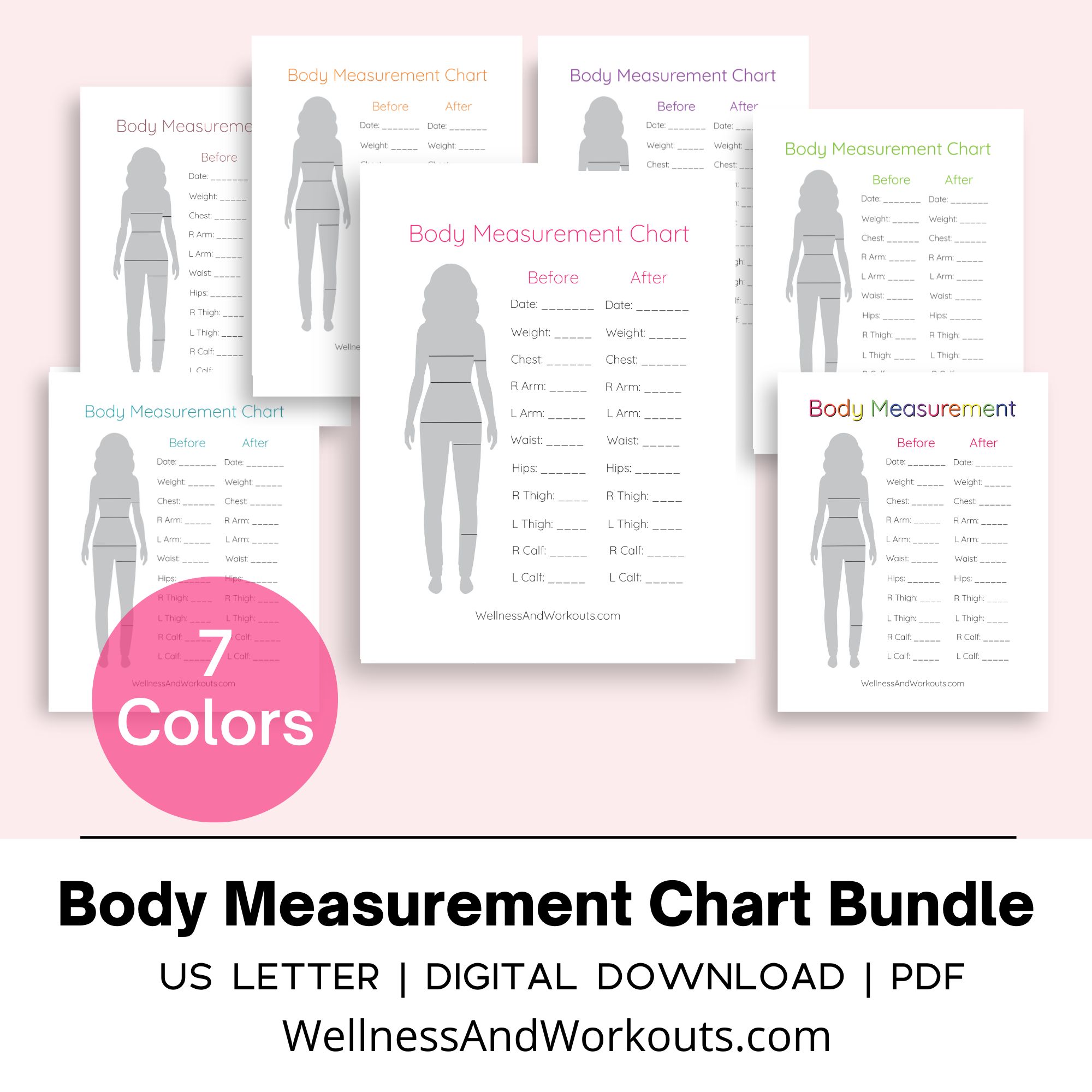 Welcome to your new Body Measurement Tracker Bundle!

This instant download/printable PDF file serves as a weight loss tracker, fitness journal, and body progress tracker for help with weight loss goals, and/or weight maintenance goals. And it includes 7 different colors!

* Teal,
* Purple
* Pink,
* Lime Green,
* Rainbow,
* Brown, and
* Orange!

Each body progress chart helps you see the results you're getting from body sculpting workouts, and serves a fitness motivation.

The silhouette illustration of a human body helps you to see where you should take your measurements each time. Then as you measure, just fill in the blanks and you will have a great way to see the progress you're making with your health and fitness regimen.

If you like the results you see, then you will know to continue what you've been doing.

If you are not getting the results you want, no worries. You will know immediately that you need to make some changes. It might be a cliche, but knowledge is power!

You may opt to avoid taking your weight, or add it in the space provided as you desire.

Remember if you do weigh yourself, your scale may often lie. Always trust the numbers from your measurements rather than paying attention to the number from the scale, in case they seem to be telling two different stories. If your measurements are going in the right direction, the number on the scale will usually catch up at some point later, (if it really even matters at all).

Sometimes the extra weight is a good sign that you've gained muscle, anyway, and you still might prefer how you look with the small bit of extra weight, especially if your clothing fits better and you like your new appearance more.

Fillable Weekly Daycare Menu / Homeschool Menu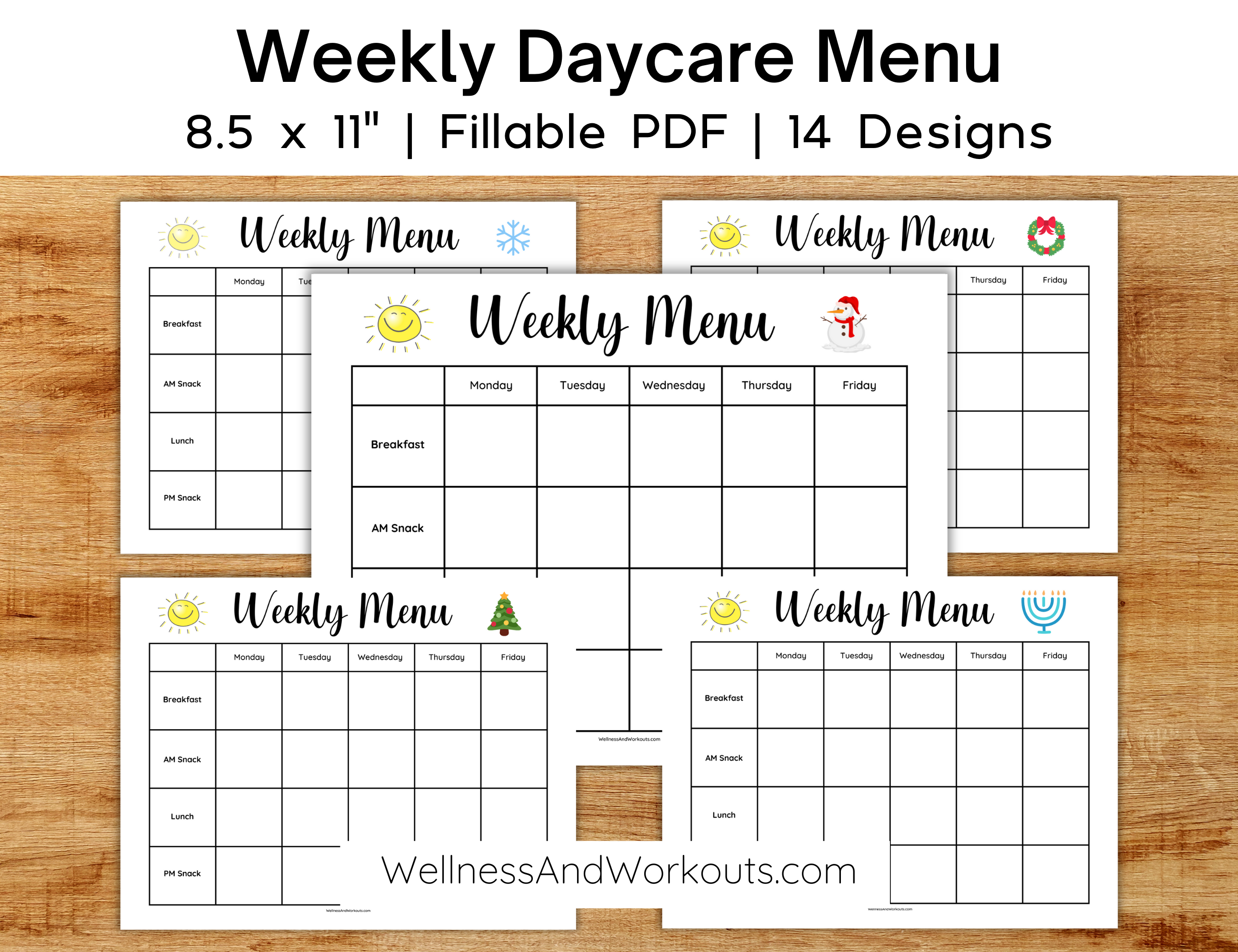 This 14 page editable weekly menu is the easiest way to create a cute, organized, professional looking menu for your daycare, preschool, or homeschool classroom.

➤ This bundle includes (14) editable PDF pages. Customize for free in Adobe Reader

* Rainbow Design Menu Planner
* Fall Leaves Design Menu Planner
* Cute Pumpkin Design Menu Planner
* Cornucopia Design Menu Planner
* Cute Turkey Design Menu Planner
* Hanukkah/Menorah Design Menu Planner
* Christmas Wreath Design Menu Planner
* Snowflake Design Menu Planner
* Christmas Tree Design Menu Planner
* Snowman Design Menu Planner
* Heart/Valentine Design Menu Planner
* Shamrock Design Menu Planner
* Spring Flowers Design Menu Planner
* American Flag Design Menu Planner

➤ How to use:

1) Download your file
2) Type into the document of your choice in Adobe Reader
3) Print as many times as you need
Meal Planner and Shopping List Printables Set
This printable weekly meal planner/monthly meal planner will help you to:


• Get Organized


• Gain Control


• Save time


• Save money
• Eat Healthier and


• Save your sanity by


• Planning your meals & shopping successfully.

This printable meal planner & grocery list includes the following pages:



• One Page Weekly Meal Planner & Grocery List

• Weekly Meal Planner Page

• Favorite Meals List

• Kitchen Inventory

• Grocery List (prefilled & blank categories)

• Monthly Calendar (Monday & Sunday start)

Fall Fitness Tracker with Gratitude Journal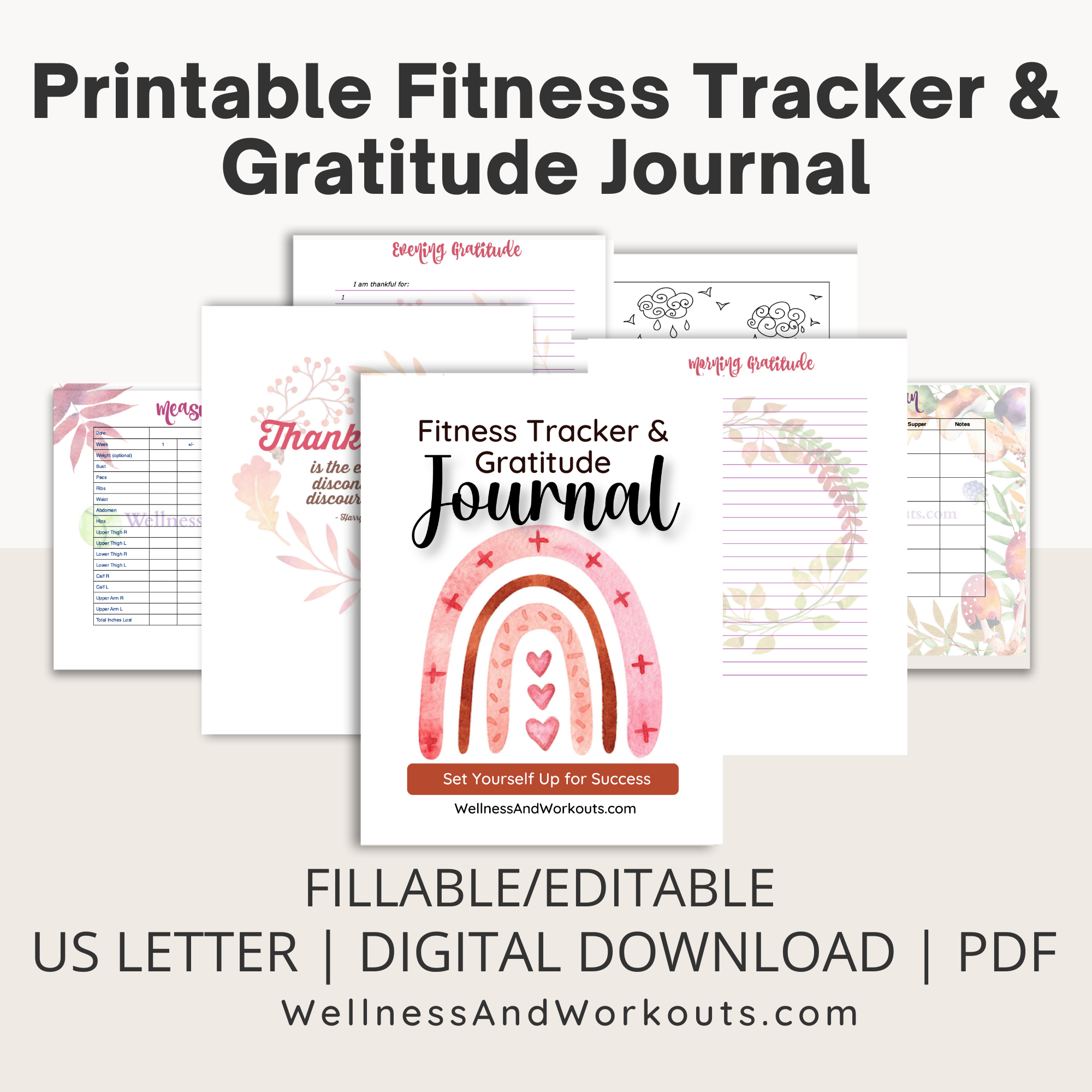 Feeling like last season got away from you without meeting the fitness goals you hoped to achieve? Feeling discouraged about your level of health? Need some help with your mindset? Want to get fitter and healthier SOON?

I understand. It can be really tough to stay focused and encouraged. And keep going.

I used to have a terrible time working out consistently. My life was so busy. Having little ones was great, but I was often *so* tired...

Then, I started a workout program that encouraged me to take weekly measurements. The motivation I got from seeing inch loss results each week was incredible! So I designed a weekly body Measurement Chart, and filled it in each week.

That one chart grew into the Wellness and Workouts Fitness Tracker & Gratitude Journal.

The Wellness and Workouts Fall Fitness Tracker & Gratitude Journal with your choice of Boho Rainbow Cover Pages will help you get--and stay--motivated as you work out and get fit!

Your body is an amazing creation. If you're like me, it can be all too easy to take it for granted. But a spirit of gratitude and thanksgiving can be transformational, both internally, and physically. This journal is designed to help transform your fitness level from the inside out.

With a theme of thanksgiving and gratitude, this printable planner/tracker includes:

~ a Printable Wall Art Quote about a Thankful Mindset

~ a seven-day printable blank meal plan/menu planner

~ a seven-day morning Gratitude Journal page

~ a seven-day evening Gratitude Journal

~ a two-page worksheet to help you identify things about your body, as it is *now*, for which you are thankful

~ a weekly body Measurement Chart with optional Weight Loss Tracker

~ a special coloring page, to use for relaxation and/or tracking fitness goals that you choose

Here's what others have said about it:


"I'm finding at least one thing I'm grateful for each day, even the bad days. I like the way it opens your thinking. I would recommend it to others because it's helped me." - Lisa G.


"It is very nicely illustrated and has multiple useful features. I liked that it helps in learning to appreciate the body God gave [each of] us and the coloring page/goal planning section. This printable is a lovely reflection of the person who created it. Eileen helped me out with a problem I had with another website, even though it wasn't her mistake. She more than made it right." - S.C.


I truly believe that with the right mindset and tools, you can get results, too. Get your tracker now and start moving towards your fitness goals today!


Printable Giveaways Instructions
Ready to enter? It's easy!
Follow these simple steps:
1. Subscribe to Wellness and Workouts email list, here (and get a 15% discount coupon for my Etsy shop!).
2. Then use the Rafflecopter Form, below, to verify your entries and learn more ways to enter! (You must use the form to be sure your name will be included in this drawing).
---
---