Printable Recipe Binder Kit
Printable Recipe Binder Kit/Coloring Pages
This printable recipe binder kit will help your recipes organized in one place, for once and for all, beautifully.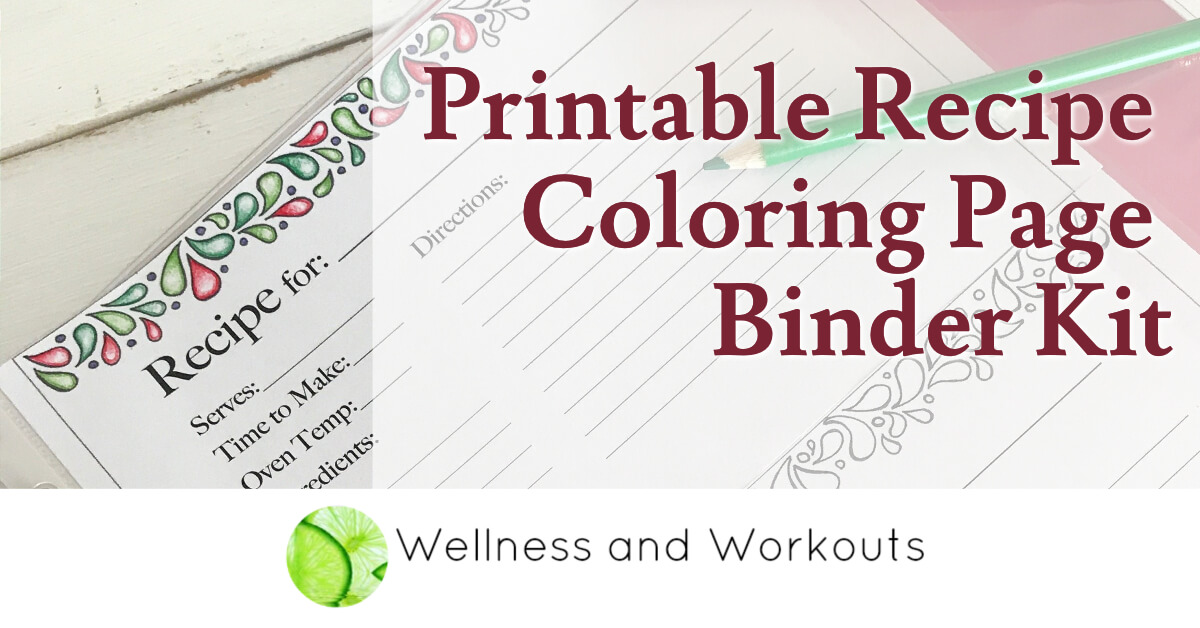 Trying to make more home-cooked foods, but feel stressed when you try to find one of your favorite recipes?
Wish you could find your family's best recipes quickly and easily?
Do you feel behind already when you enter your kitchen, and then feel like you're hitting your head against a wall as you waste time searching for that recipe you want to cook?
I get it. You've collected some amazing recipes over the years—but they're a jumbled mess.
It doesn't have to be that way!
Imagine if you...
Could find each and every one of your favorite recipes—in just a moment, because you knew exactly where each one was...
Had each recipe listed in an index by category, making it even faster and easier to find...
Could feel relaxed each time you sat down to plan your meals and shopping list, because your recipes are all in order...
You didn't realize a printable recipe binder kit could give you all that, did you? :)
This fun, classic printable kit has a coloring-page border, too!
Printable Recipe Binder Kit Coloring Page - Recipe Index
Printable Recipe Coloring Page Binder Kit

These printable recipe coloring pages are perfect for kids and adults. With borders to color, you might find your older kids actually offer to help you organize!
All the pages are quick and easy to print & color.
This recipe binder kit helps moms who cook for their families—or want to start cooking more—organize all their favorite printed recipes.
Don't like to organize? Have you been putting off this task, feel like it's a boring chore? 
Make it fun! 
Bust boredom and relax while coloring the borders. Then write in each recipe. You'll have a built-in reward for yourself by coloring with each recipe you write down.
Printable Recipe Binder Kit Coloring Page - Full Page Recipe with spot for a Photo
Feel like you don't have time to organize your recipes?

You really just need ten minutes a day to get going. It doesn't require large blocks of time to make good progress. You'll be surprised how quickly your binder will come together if you just make a few minutes a day to relax, color, and make progress with your binder.
Love colorful printables, but don't want to spend lots of money on expensive colored printer ink or toner?

With this printable recipe binder kit, the only ink color you will need is black. And the printables were deliberately designed to use a low amount of ink or toner per page. You'll get all your favorite colors from your markers or colored pencils, which will give you lots of color at no additional cost, if you already have some supplies on hand. 
Printable Recipe Binder Kit Coloring Page - Directions, Continued page
What's in the Recipe Binder Kit?
This kit will allow you to get control of your recipes ONCE AND FOR ALL, and allow you to relax and relieve stress while coloring them with the EXACT colors you like.
Imagine having all your healthy recipes in one place and knowing precisely where to find them. It will make meal planning a breeze!
This coloring page recipe binder kit includes 9 printable coloring pages:
- front cover, with a vine border to color
- back cover, also with a vine border,
- 3 sizes of binder spines,
- 5 different recipe pages each with different features, and
- a recipe index.
Each printable page has a border to customize with your favorite colors. 
The perfect tool for fueling your motivation, lifting your spirits, getting more organized in a fun and creative way, and helping you transform your health.
Happiness Guarantee
Your happiness is my number one priority. If you have a problem within the first seven days, I'll solve it, refund it, or whatever it takes to make things right.

Like Printables? Want to get organized? 
You'll LOVE these Emergency Binder Printables!
---
---