Mediterranean Paleo Cooking
Mediterranean Paleo Cooking
Mediterranean Paleo Cooking is a gorgeous book by Caitlin Weeks, and Nabil Boumrar, with Dianne Sanfilippo, New York Times bestselling author of Practical Paleo. I am really excited to get to share a preview of the new book with you here today! 
Disclosure: We may receive a commission if you purchase through links in this post.  
We are a participant in the Amazon Services LLC Associates Program, an affiliate advertising program designed to provide a means for us to earn fees by linking to Amazon.com and affiliated sites. For more information, see our disclosure page.

Mediterranean Paleo Cooking starts with a Human Touch
The first few sections of the book tell Nabil, Caitlin and Dianne's stories. How they came to eat Paleo, how they met, and in the case of Caitlin and Nabil, a bit of their love story. I really enjoyed "getting to know" them a lot! And as for their book...
And is Just Plain Gorgeous
I don't know about you, but I LOVE to look at beautiful pics of healthy food that fits my dietary restrictions. Here is a book that will make you feel sorry for those who don't eat a Paleo or GAPS type diet! Page after page of mouth-watering looking photos that make me just about swoon--that is what this book offers!
Full of Reader-Friendly Features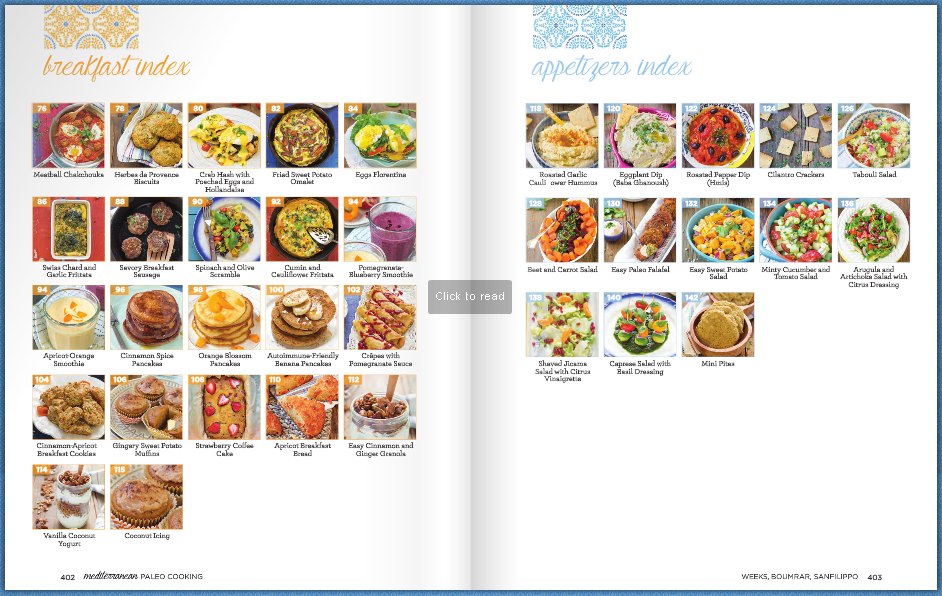 I love all the helpful and informative charts, graphs and resources. Much like in Diane's book, Practical Paleo. Like this picture index, above. 
And the Modifications Make These Recipes Really Workable!
As if gorgeous pics and healthy, delicious recipes were not enough, the authors of this cookbook truly went the extra mile. They offer special modifications for for AIP (Autoimmune Paleo), Egg Free, Nut Free, SCD, GAPS diet, and Lower carb. How great is that?!
Want to see a Preview?
If you'd like to see a beautiful, full color preview of this amazing cookbook, you can click here to browse through it on Snackflip. You can learn a lot about the book this way.
But don't Stop There!
Be sure to come back and get your own copy of this brand new book, and breathe some new life into your cooking routine!
---
---