Paleo Chocolate Chip Cookie Recipe
Paleo Chocolate Chip Cookies
Paleo Chocolate Chip Cookies
Paleo chocolate chip cookies--what could be better?! Should you make and eat sweets like this every day on a healing diet? No. But what a wonderful thing it is, to be able to eat healthy versions of "normal" foods like this!

When Kelly Bejelly of A Girl Worth Saving released her new cookbook, Paleo Eats, I was excited. I had seen a "sneak peek" online, and couldn't wait to see the book. But who was even more excited? My youngest daughter. 

She was so excited, I let her open the package when it arrived. In this video, you can hear her excitement. And get a peek inside! (The video quality is not as good as I had hoped it would be, I'm new to using video, but I hope you'll still enjoy hearing my daughter's excitement over this wonderful book!)
You will see that Kelly is the queen of Paleo comfort foods. She offers sumptuous looking recipe after recipe--the kind you crave (or at least I crave!) on special diets. But now, you don't have to feel deprived anymore. Kelly's got you covered!
After you've watched the video, be sure to check out this recipe for paleo chocolate chip cookies, below. I've added a few ingredient tweaks, for those of you who want to make a GAPS Diet version of this. Chocolate chip cookies are a favorite of mine, so I am SO GLAD Kelly created this delicious recipe!
Kelly's Sneak-Peek Video
Still want a good peek inside this book? Here's a higher resolution video where you can get a better idea of what is inside!
Paleo Chocolate Chip Cookie Recipe
Prep time: 10 minutes
Cook time: 12 minutes
Makes 18 cookies
8 whole Deglet Noor dates, pitted
2 cups blanched, superfine almond flour
½ cup unsweetened shredded coconut
1 large egg
1 tablespoon maple syrup (or honey, if you're on GAPS)
¼ teaspoon sea salt
½ teaspoon vanilla extract
¼ teaspoon ground cinnamon
½ cup dark chocolate chips (or homemade, if you are on the GAPS Diet. Melt pure unsweetened chocolate, stir in honey to taste. Blend thoroughly, pour chocolate on a parchment paper lined tray and freeze. Once frozen, break chocolate into little pieces.)

Instructions
Disclosure: We may receive a commission if you purchase through links in this post.  
We are a participant in the Amazon Services LLC Associates Program, an affiliate advertising program designed to provide a means for us to earn fees by linking to Amazon.com and affiliated sites. For more information, see our disclosure page.

Preheat the oven to 350 degrees. Line a baking sheet with parchment paper and set aside.
Place the dates in a food processor and pulse for 30 seconds to break them up. Add the almond
flour, coconut, egg, maple syrup, salt, vanilla, and cinnamon and pulse for 1 minute to combine.
With a spoon, mix in the chocolate chips.
Shape a large spoonful into a 2-inch ball and place it on the prepared baking sheet. With a cup,
flatten the ball to ½ inch thick. Repeat with the rest of the dough.
Bake for 10 to 12 minutes, or until golden brown. Remove from the oven and let cool on a rack
before serving.
Store leftovers in an airtight container at room temperature for 3 to 5 days. 
-by Kelly Bejelly, of A Girl Worth Saving, from her cookbook, Paleo Eats.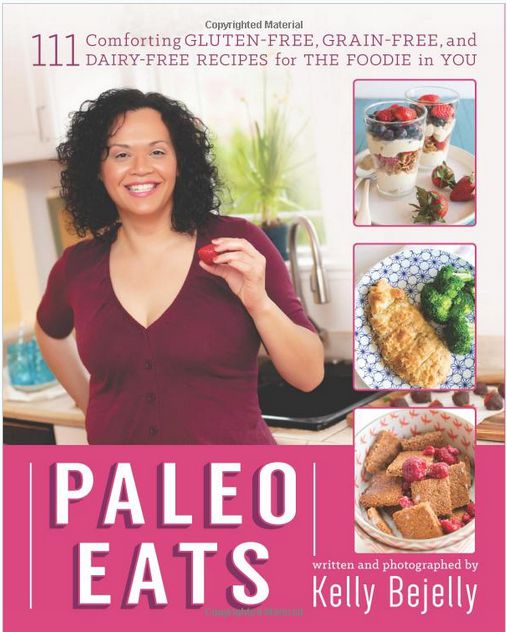 Return to Top of Paleo Chocolate Chip Cookies
---
---