Printable Body Measurement Chart!
Look--a FREE Printable Body Measurement Chart!
Out of all of the health and fitness printables I offer on this site, this one is so important for helping you to get motivated.
And stay motivated.
And to know if your weight loss workout plan is actually working, especially when your scale seems to lie.

Today I have a special gift for you.
It's practical and pretty – it's a printable body measurement chart! 
A Printable Body Measurement Chart--Workout Motivation you can Print!
When you start using any workout, one of the most important ways to see if it is working for you is to track your results.

Why? Tracking and writing down your measurements will help increase your motivation and will-power, motivating you to continue with your workouts or healthier way of eating.
(And if you're looking for a super-motivating book to get you working out more regularly, check out Teresa Tapp's Fit and Fabulous in 15 Minutes.)
Women's Printable Body Measurement Chart 
This fitness measurements sheet was specifically designed to be a women's printable body measurement chart, as it focuses on areas that are best for women to measure.
For instance, a chart for men would not need to measure quite so many parts of the chest or torso. But of course, men may use it, too.
It's a very detailed measurement tracker, perfect to use as a women's body measurement template.
Body Measurement Chart
Because there are so many areas in your body that may be changing during your fitness journey, it is nice to have an orderly way to record each measurement along the way.
To see each small change for the better is such an encouragement!
Fitness Tracking Chart
This template for body measurements offers lots of room to fit four sets of measurements on the page.
Unlike a body progress chart or a body progress printable which may contain a large illustration, this chart keeps things simple, and lets you see your week-to-week changes at a quick glance.
Weight Loss Chart
Though the focus of this chart is on one's measurements, there is a spot in which you may record your weight. I enjoy using this as it is helpful to see that on a day when my weight has actually gone up a bit, I still may have succeeded to lose inches.
But if it bothers you to weigh yourself, you can of course skip using this part of the chart, and use it strictly as an inches-lost tracker.
Measurements for Weight Loss
While it can be wonderful to see the correlation (or lack of correlation) between changes in your weight and your measurements, I think what many of us most want is to see the desired changes in measurements.
The number on the scale is just that—a number.
So you can definitely find the motivation to keep going and encouragement to be consistent in your fitness journey by using this chart.
Weight Loss Tracker Measurements
So yes, if you want to track both your weight loss and changes in measurements, this printable blank body chart is ideal to use!
When to take your measurements
Take your first set of measurements on the day of your first workout, ideally before you work out. But just do it after, if you forget. Then, each week, re-measure to see how you are doing. 

And if you are faithfully doing workouts that are NOT giving you results, you need to know that, too. And then make the switch to T-Tapp!
This body measurement chart printable is a powerful tool, one you will not want to skip when using T-Tapp workouts. Or any workout, really! 
Are your workouts really working?
If your workouts are working, you should know it. And changes for the better in your measurements do NOT always show on the scale. In fact, they often do NOT show on the scale.

Trying some quick workouts for busy moms, like this 10 minute kettlebell workout, or this free, streaming 10 minute rebounder workout, or maybe this 20 minute workout DVD for those who have been sedentary for years, or even muscle-building workouts for women, this chart will help you know when you are making real progress, even when you may not see the needle move on your scale.

If there's one thing that will help you stay motivated with your health regimen, it's to see your progress each week!

Taking weekly measurements is what kept me going when I first started doing a T-Tapp fat loss workout plan and lost 41 inches in several months.

Why not make measurement taking more fun, by having a cute form to fill out?!
Is your diet working?
Way of eating, diet, whatever you call it, what you eat matters for health and attaining--or maintaining--a healthy weight.
Have you tried to make coconut milk smoothies for weight loss?
Are you looking for a good gluten free bread machine recipe or gluten free paleo desserts for special occasions to help you meet your weight goals? Maybe you want to find a way to keep your fat loss natural?
Great! Then see if the changes are really helping or not, by taking weekly measurements.

Click the button to get your Printable Body Measurement Chart now!

Body Measurement Chart FAQs
How often should you measure yourself?
For best results, I recommend that you choose one day a week to take measurements and record them on this printable body measurement chart.
This will help keep your mind focused on the progress you're making, and help put the number you may see on your scale in perspective.
How do you measure your body for fitness?
To get reliable measurements with this printable body measurement chart, choose where you will measure yourself each week for each body area.
The most important thing is to measure the same way in the same place each week for meaningful results.

How do you take body measurements?
Here is what I suggest for each area on the printable body measurement chart:
If you are going to weigh yourself, (and this is totally OPTIONAL!) I recommend doing so at the same time of day each week. If you want to see as low a number as possible, try stepping on the scale first thing in the morning, before eating or drinking fluids, and if possible after going to the toilet.
To measure your pecs, wrap the tape measure around your torso as high as possible under your arms.
For your bust or chest, measure at the fullest part.
To measure your ribs, measure just underneath your bust or pectoral muscles.
For your waist, measure around the navel area.
For the abdomen, wrap the tape measure around about a couple of inches under your navel.
For your hips, wrap around the fullest part.
For upper thighs, measure at the widest area.
For lower thighs, just an inch or so above the knee cap.
To measure each calf, wrap the tape measure around the fullest part of your lower leg.
For your arm, measure around the fullest part of your bicep.
After you've recorded all the numbers on the printable body measurement chart, take note of any increases or decreases.
Add up all the numbers that are going in the direction you'd like, and make a note at the bottom of the chart.
I like to also add the cumulative number below the chart, too. It can be very encouraging, especially when the scale is slow to move, or the changes are not yet easy to see in the mirror.
What are good measurements for a woman?
Hmm--that's a loaded question, isn't it?!

Because we're all built differently, what is a good set of measurements for one woman could be a very unhealthy set of measurements for another.

The concept of an "ideal" figure is a potential trap. As lovely as a Barbie doll might look, her looks are only one of many possible types of beauty. God is (thankfully) much more diverse and imaginative in how He creates and defines beauty!

So no, I am not going to give a set of numbers here. 

I will say that for the sake of your cardiovascular health, you do want to have less weight around your middle than you have around your hip and thigh area.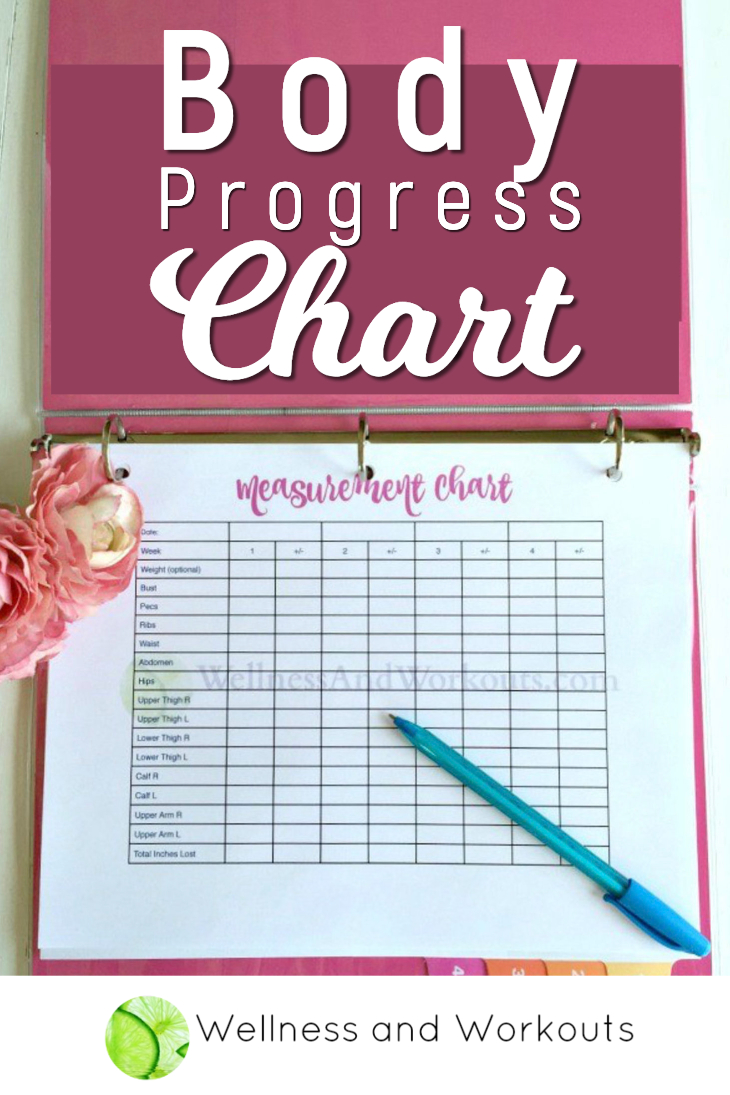 But if you're trying to find a set of numbers to use as a goal, consider these thoughts:
Were you blessed to be a healthy weight in the past? (I don't mean super-skinny. I mean HEALTHY!) What were your approximate measurements at that time?
If you have always been heavy since reaching full height, do you have a sibling or close blood relative who is around your height and of a similar build? If so, what would you guess are her approximate measurements? You don't need to ask--that might be weird. Just guess at some general numbers...
If you know you could reduce down a couple of sizes and still be in good health, look up the clothing size charts for that size, and see what the range of measurements is for each body area.
Finally, use your free printable body measurement chart for weight loss to track your results and stay focused. It should be a source of correction when your results are flat (or going in the wrong direction), and tremendous encouragement when they're going in the direction you want!
I hope you enjoy using this printable body measurement chart for many years!


Like Printables? Want to prepare for the future? You'll LOVE this set of Emergency Binder Printables!
Interested in Challenge Printables? 
PAID ENDORSEMENT DISCLOSURE: I may receive monetary compensation or other types of remuneration for my endorsement, recommendation, testimonial and/or link to any products or services from this blog. Also, we are a participant in the Amazon Services LLC Associates Program, an affiliate advertising program designed to provide a way for us to earn fees by linking to Amazon.com and affiliated sites.