Pumpkin Pudding Recipe
This is a very simple, easy pumpkin pudding recipe. It is dairy free, and superfood-rich with the coconut oil contained in the coconut milk. It is GAPS legal, sweetened with honey. A wonderful one of my gluten free dessert recipes!
Disclosure: We may receive a commission if you purchase through links in this post.  
We are a participant in the Amazon Services LLC Associates Program, an affiliate advertising program designed to provide a means for us to earn fees by linking to Amazon.com and affiliated sites. For more information, see our disclosure page.

Serves 8
Ingredients:
1 1/2 cups Homemade Coconut Milk, or Canned Coconut Milk
1 1/2 cups Pumpkin Puree (Making your own is ideal, or canned pumpkin)
1/2 cup Honey
2 teaspoons Cinnamon
1/8 teaspoon Ground Ginger
1/8 teaspoon Ground Nutmeg
1/8 teaspoon Ground Cloves
a pinch of sea salt
1/8 teaspoon Cardamom
2 Tablespoons Gelatin (Grassfed gelatin is most nutritious, but the recipe still sets up with regular grocery store unflavored gelatin)
Easy Cranberry Sauce as a garnish (optional)
Instructions:
1. Warm coconut milk gently in a pan on the stove. Do not bring it to a boil, just warm it so the gelatin will dissolve well in it. Or if you just made a fresh batch of coconut milk from scratch with this recipe, you can use it as it it. 
2. In a blender (I use a Vita Mix) add the coconut milk and gelatin. Blend well.
3. While the mixture is nice and warm still, add the honey and blend till well mixed.
4. Add the cinnamon, ground ginger, ground nutmeg, ground cloves, sea salt and cardamom. Blend till evenly distributed in the mixture.
5. When well blended, pour the mixture into 8 individual custard cups or dessert dishes. 
6. Chill in the refrigerator for about an hour, and the pudding will be ready to serve. 
7. Top with a dollop of home made cranberry sauce as a garnish, optional.
The home made easy cranberry sauce is a wonderful topping to complete this dessert. If you are like me, you will use any excuse to eat more cranberry sauce--I love the stuff!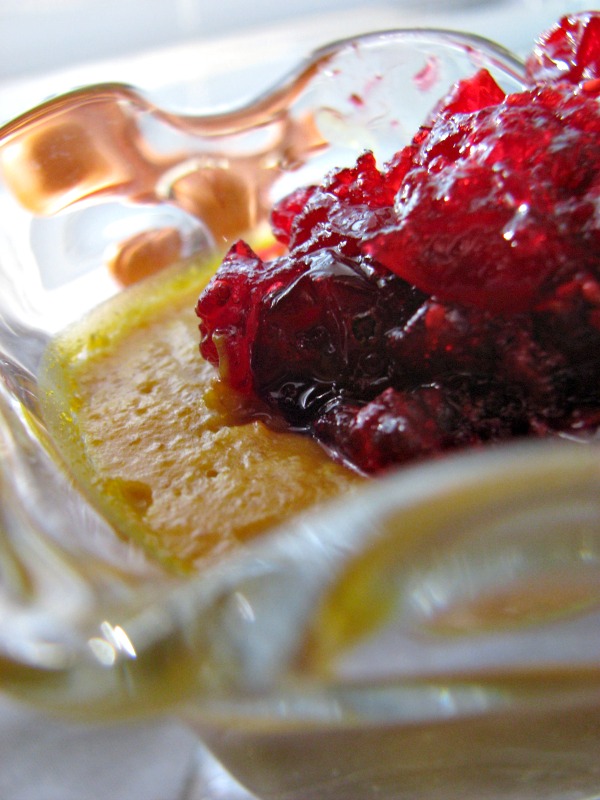 You might also like:
Return to Top of Pumpkin Pudding Recipe
---
---