Paleo Apple Crisp
This paleo apple crisp is a mouth-watering recipe with an almond flour crumb topping. It's one of many delicious gluten-free dessert recipes that I love.
It's easy to make and will fill your home with a wonderful apple-cinnamon aroma while baking.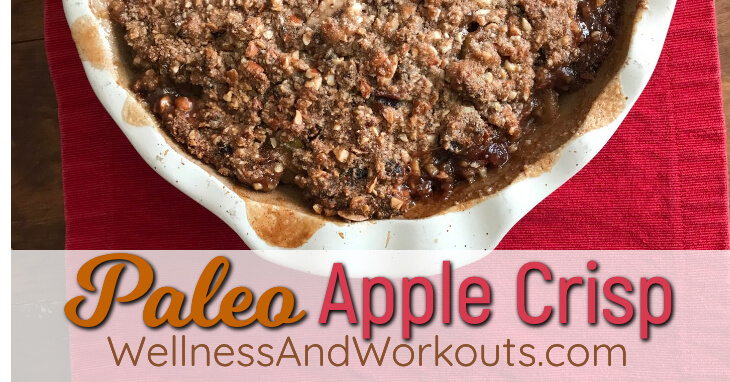 Disclosure: We may receive a commission if you purchase through links in this post.  
We are a participant in the Amazon Services LLC Associates Program, an affiliate advertising program designed to provide a means for us to earn fees by linking to Amazon.com and affiliated sites. For more information, see our disclosure page.

Healthy Apple Crisp
When baking sweets, especially for your friends, family, and children, one of the most loving things you can do is to bake healthy treats.
This apple crisp with an almond flour topping is a healthy option. 
If you're looking for a paleo apple crisp recipe that is nut-free, click for the best apple crisp recipe for that purpose. The crumb topping is made from coconut flour.
It's an SCD Apple Crisp, though I originally wrote it as a GAPS Apple Crisp. It's actually both!
Healthy Apple Recipes
If you want other healthy apple recipes, don't miss our Cinnamon Apple Date Bars. 
If you're into the healthy fats in coconut, you'll like the rich texture that coconut cream lends to this date cookies recipe.
If you like coconut, we've got lots of coconut-based gluten free dessert recipes here.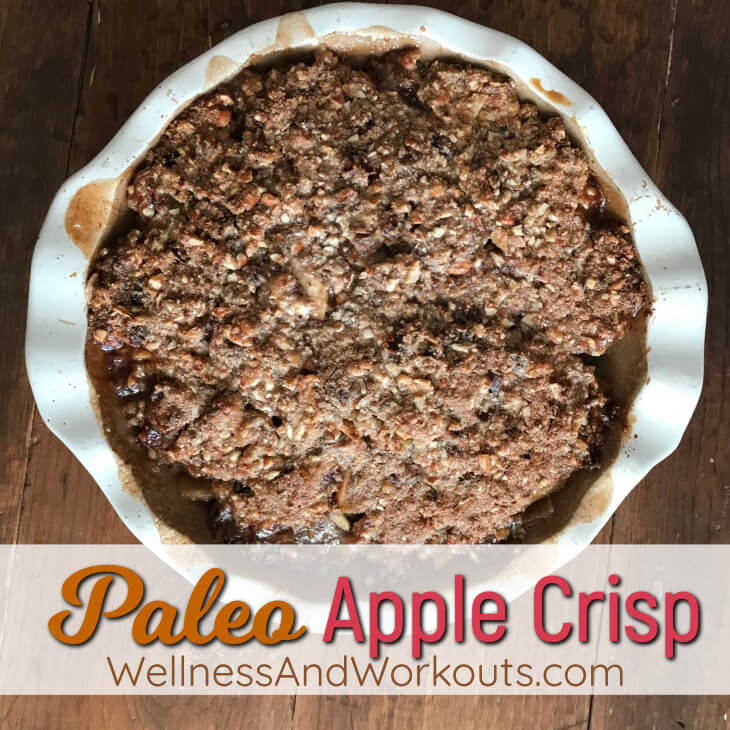 Moist Apple Crisp
This apple crisp filling is moist and bubbly as it comes out of the oven. Th almond flour crumbs help add to the moisture.
Gluten Free Apple Crisp without Oats
It seems funny to me that some people search for a paleo apple crisp recipe with oats, since oats are not typically considered a paleo ingredient. This recipe sticks to a conventional understanding of paleo ingredients, and has an oat-free crumb topping.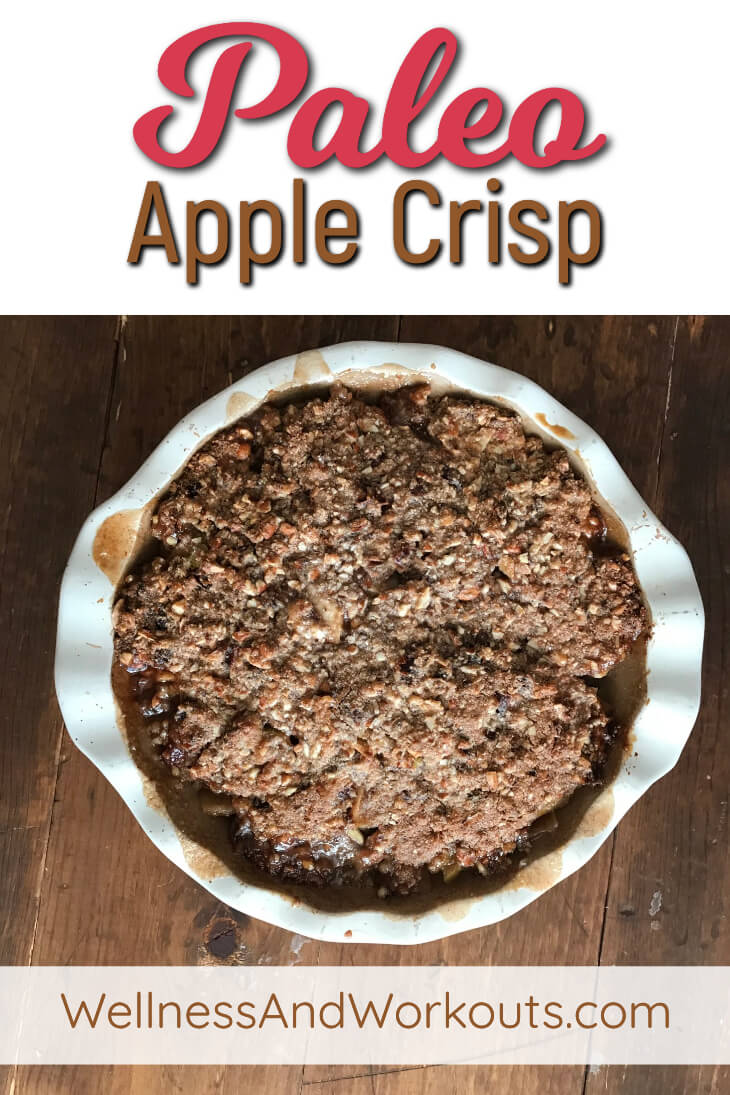 What type of apples are best for baking?

I have my favorite type of apple for baking, but you may have your own favorite. Here are some types of apples people like for baking:
Braeburn
Cortland
Fuji
Golden Delicious
Granny Smith
Honeycrisp
Jazz
Jonagold and
Pink Lady.
What type of apples are best for apple crisp?
For this recipe, I HIGHLY recommend Granny Smith Apples. They are firm and ideal for cutting with an apple-peeler-corer-slicer. This tool allows for even baking by creating thin, even slices of apples.
Specialty Ingredients:
For any recipe using almonds, I highly recommend sticking with organic almonds only. The herbicides used on conventionally grown almonds are a definite health concern. I like to use:
  Relax, Color & Start Organizing Your Recipes, Today!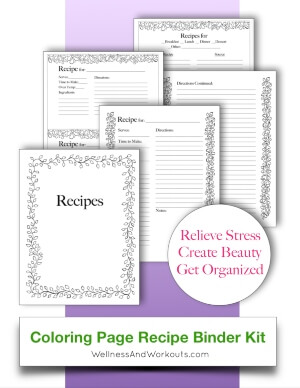 If you want a fun way to de-stress while organizing your recipes, check out this cute, printable coloring-page recipe binder kit I've created for you.

It'll help you relax and unwind while  organizing all your favorite recipes, beautifully! 
Must-Have Resources:
When making this paleo apple crisp recipe, you'll really want to have the following tools on hand:
Make it a Meal:
Do you find it helpful to make and use a meal plan? I find it always makes my days go more smoothly, when I have a good plan.

It stops so much decision fatigue!
Here are some easy healthy gluten free recipes I've assembled for you:
Main Dish: Pinchos de Pollo (chicken kebabs)
Grain: Gluten Free Bread Machine Recipe
Probiotic side dish: Homemade Sauerkraut--see How to Make Sauerkraut (plan to start this a week or so ahead of time)
Refreshing Smoothie: Choose from this selection of Healthy Green Smoothie Recipes or make a delicious, creamy glass of Vitamix almond milk, and add a bit of your favorite sweetener to it.
Paleo Apple Crisp
Paleo Apple Crisp
Prep time: 15 M
Cook time: 45 M
Total time: 60 M
This paleo apple crisp is a mouth-watering recipe with an almond flour crumb topping. It's easy to make and will fill your home with a wonderful apple-cinnamon aroma while baking.
Ingredients:
Filling
5 Granny Smith Apples, chilled, then sliced
1 Tablespoon lemon juice
1 teaspoon Ceylon Cinnamon
1/4 cup Maple Syrup
Topping
1 cup raw crispy almonds, chopped
1 cup blanched almond flour
9 pitted dates, diced
1/4 cup + 2 Tablespoons avocado oil
1/3 cup maple syrup
1/4 teaspoon white sea salt
2 teaspoons Ceylon Cinnamon
Instructions:
Preheat oven to 350 degrees F. Rinse apples, blot dry. If using an apple peeler-corer-slicer, put the apples in the freezer for 20 minutes before the peeling/coring & slicing.
Pull out all other ingredients, measure, & set in place.
Combine lemon juice, cinnamon & maple syrup, and set aside.
After freezing 20 minutes, immediately peel, core & slice the apples using an apple peeler-corer-slicer to get the best, most evenly sliced apples (these will bake much more evenly than if you have different size slices).
Cut the resulting spiral-cut apple in half (see pics).
Place apple slices in a large bowl. Add the lemon juice, syrup and cinnamon mixture and toss well to coat the apples.
Put coated apple slice in a stoneware pie plate or stoneware deep dish baker.
Mix topping ingredients together, and evenly distribute them on top of the apple slices.
Bake at 350 degrees F for 45-55 minute till top is browned and filling is bubbly.
Enjoy!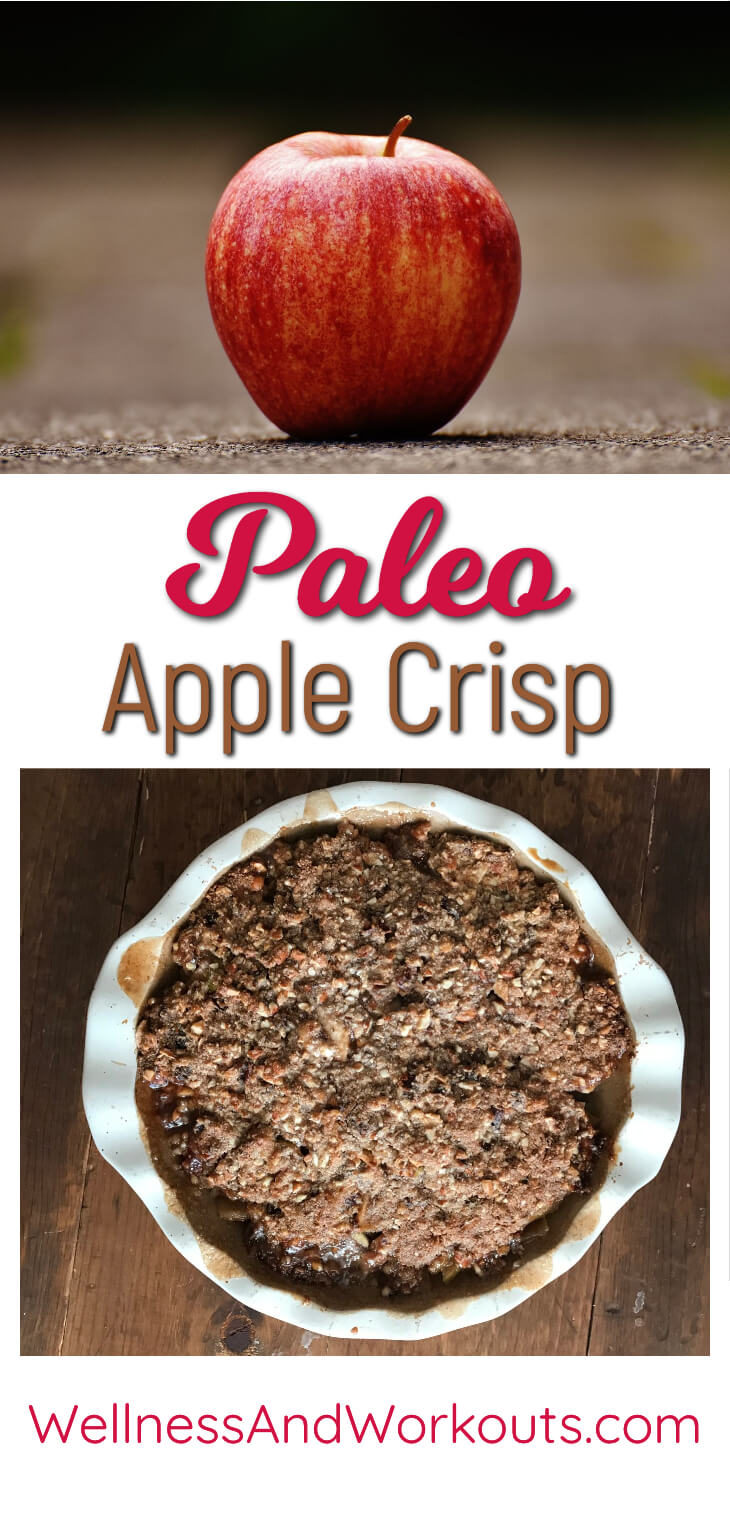 ---
---