Coconut Milk Smoothie for Weight Loss
Tip #2: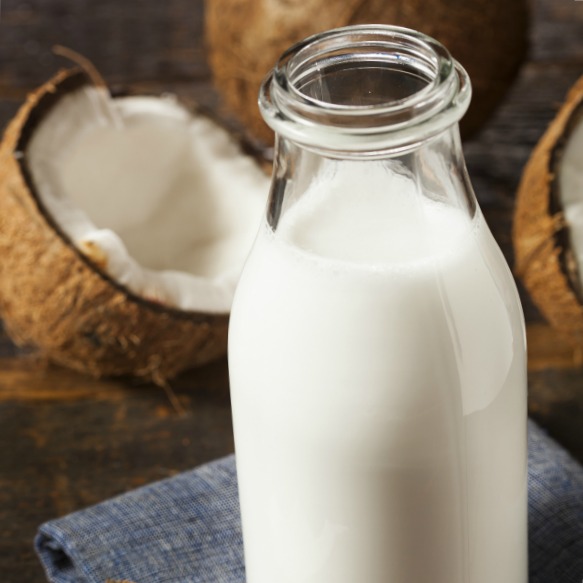 Disclosure: We may receive a commission if you purchase through links in this post.  
We are a participant in the Amazon Services LLC Associates Program, an affiliate advertising program designed to provide a means for us to earn fees by linking to Amazon.com and affiliated sites. For more information, see our disclosure page.

2. Use ingredients that are as natural as possible.
Processed ingredients may contain BPS, BPA, and other endocrine disruptors, which may cause you to gain fat.
Processed ingredients may cause inflammation, which may prevent fat loss.
Processed food ingredients often contain a very long list of ingredients. If you have any food allergies or sensitivities, you may be eating some foods that will cause inflammation in your body without realizing it. 
Avoid coconut milk and other ingredients that contain Estrogens, which may cause your body to gain fat.
Most brands of canned coconut milk contain BPA and preservatives.

BPA (bisphenol A) is found in the liners of most canned foods. And even if the can says BPA free, it still may contain BPS (bisphenol S), which is said to be even worse. 
BPA and BPS both may cause reproductive problems, developmental problems in unborn babies, and cancer.

Yes, I know almost everything these days is said to cause, or at least possibly trigger, cancer. So let's approach this from a fat-loss perspective.
BPA and BPS are both endocrine disruptors. In plain English, this means that they mimic the hormone estrogen. And high estrogen levels in your body cause your body to gain fat, and hold on to fat. 
So if you want to get rid of fat from your body, avoid any and all skin care, cosmetics and foods that contain estrogenic substances. Avoid them like the plague!

Boxed coconut milk products often contain inflammatory ingredients such as carageenan. Another possible cancer trigger, as well.
Processed foods also may increase inflammation. Inflammation is an enemy of fat loss.
Yes, even most protein powders have serious pitfalls. Many (most?) contain denatured proteins, whey from feed lot cows fed with genetically modified grains, unhealthy soy-based ingredients, etc. For protein, I recommend you eat a serving of organic grass-fed meat or pastured eggs on the side with your smoothies.
Processed food ingredients can cause inflammation in many, and inflammation may slow or bring a halt to weight loss. 
Inflammation can also be caused by food allergies and intolerances, so it is extremely important to be aware of foods that disagree with you, and avoid them.

Does it make you burp, make your skin itch, give you gas, acid indigestion, give you headaches, affect your toilet habits or correlate with any other "annoying" health problems? Listen to what your body is trying to tell you! Try cutting those foods out for a few weeks.
Using other common sense weight control methods at the same time, you might be pleasantly surprised to find your weight may go down.

Processed foods often have long lists of ingredients with names that sound nothing like the actual food from which they are derived. For instance, if you have a corn allergy, and don't see the word "corn" in the ingredient list, you should know that "dextrose" is often derived from corn. This is just one of many examples I could give. It makes it very confusing!
Especially if you've been doing everything you can to lose weight, and staying at the same weight, or worse, gaining, you definitely should cut out the processed food ingredients! 
So how do I find more natural coconut milk?
I'm glad you asked!
If you learn my easy way to make coconut milk, you can avoid these unnecessary additives, and save money while you're at it. 

Don't make the common mistake in Tip 3. Click next!
PAID ENDORSEMENT DISCLOSURE: I may receive monetary compensation or other types of remuneration for my endorsement, recommendation, testimonial and/or link to any products or services from this blog. Also, we are a participant in the Amazon Services LLC Associates Program, an affiliate advertising program designed to provide a way for us to earn fees by linking to Amazon.com and affiliated sites.