20 Minute Workout
20 Minute Workout Routines for Toning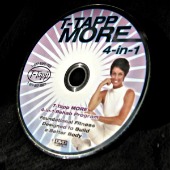 My new favorite 20 minute workout is Teresa Tapp's T Tapp More Rehab Program DVD. (Note: the T-Tapp organization is currently non-operational, Teresa Tapp died intestate and her company is in probate now. If you can't find this workout on Amazon, you might try checking on ebay for a copy of it.)
It was created for "those who have MORE to lose, MORE health issues to overcome or MORE birthday candles on the cake."
Teresa Tapp is joined by a couple of larger sized ladies for the main program on this DVD. It is heartening to see workout routines for toning like this, that virtually anyone can do.
And what I like better, is that it gives me measurable results every week that I've done it!
(Keep reading, I will tell you my exact results later on this page :-)
Disclosure: We may receive a commission if you purchase through links in this post.  
We are a participant in the Amazon Services LLC Associates Program, an affiliate advertising program designed to provide a means for us to earn fees by linking to Amazon.com and affiliated sites. For more information, see our disclosure page.

Like a Shorter T-Tapp Total Workout
T-Tapp More is a modified version of the T-Tapp Total Workout.
Apart from the instructional segments, which teach the proper form for each move, there are two main programs.
The first is beginner level, which is a 20 minute workout. It is a lot like theT-Tapp Basic Plus, but it has some elements added from the T-Tapp Total.
The second is a longer 27 minute routine, which I will discuss in more detail on another page that I plan to write in the future.
More Comprehensive than
T-Tapp Basic Workout Plus
The way that the T-Tapp Basic Plus came about is an interesting story.
Teresa Tapp went on a local news station in early December one year, and had viewers sign up to enter a contest. One of the winners of her "Total" video was instructed to do the workout a certain number of times during December.
She saw that the daily program was about 45 minutes long, and said something to the effect of
"I don't have time for that. But I will do the first 15 minutes of it."
And so she did. This made Teresa Tapp a little nervous. She was unsure how this lady would do, with so little daily exercise.
A Great Fat Loss Routine

When the month was over, the contestant had lost a significant amount of inches. Even while eating the usual holiday foods!
And that is when the idea of the Basic Workout was born. Teresa Tapp added "Hoe Downs" to enhance it, and that became the Basic Workout Plus. Turns out it doesn't have to take much time each day, to have a great fat loss routine!
What Teresa Tapp seems to have done with the T-Tapp More Rehab Program DVD is to modify it for those who need an easier starting point to her exercise program.
But it seems to be optimally designed another way, in that she has incorporated some of the moves from the Total Workout that did not make it into the Basic Plus.
For instance, in the T-Tapp More Rehab Program DVD, when doing plies, some of the arm moves from T-Tapp Total Workout are done. I think this is a nice touch.
Also, a modified form of lunges are taught in the T-Tapp More Rehab Program DVD. I LOVE this modification.
It makes the lunges a lot easier, in my opinion. But I still get good results.
Lower Back Pain Stretches,
and Belly Fat Loss, Too!
My favorite thing about the 20 minute workout portion of the T-Tapp More Rehab Program DVD is that it not only includes lower back pain stretches that help keep my back strong and pain-free, but I've seen some good belly fat loss from this DVD, as well.
I recently tried the shorter 20 minute workout for a couple of weeks. Five days per week, for two weeks.
I did not eat any special way (other than the fact that I am on the Full GAPS Diet, but that is more for health than for weight loss at this point).
Here are my inch loss results from that two week period: I lost 4 1/4 inches the first week, and 2 3/4 inches the second week. That's a total of 6 3/4 inches in only two weeks! 1 1/4 inches of that was from my waist.

Ready to try it T-Tapp More yourself? Click here!
---
---