Naturally Sweetened Treats Community eBook
The Naturally Sweetened Treats Community eBook is a best-of-the-best cookbook with recipes compiled from 41 real food bloggers. What do I mean by best-of-the-best?

Disclosure: We may receive a commission if you purchase through links in this post.  
We are a participant in the Amazon Services LLC Associates Program, an affiliate advertising program designed to provide a means for us to earn fees by linking to Amazon.com and affiliated sites. For more information, see our disclosure page.

Healthy Treat Recipe
Naturally Sweetened Treats is the result of a call from Pat Robinson of Heal Thyself and Aubrey Griffin Johnson of Homegrown and Healthy--a call out to real food bloggers, to have them contribute their very best healthy treat recipes.
A Variety of Healthy Treat Recipes
In Naturally Sweetened Treats you will find:

cookie and bar recipes 
fruity snack recipes 
recipes for cakes 
pie recipes 
chocolate treats 

It even has

healthy ice cream
dairy dessert recipes
non-dairy dessert recipes
Recipes for Special Diets
Amanda from The Curious Coconut evaluated the recipes in the book, and she found that there were:
27 Paleo Recipes
36 Grain Free Recipes
39 Gluten Free Recipes
30 Dairy Free Recipes
Starlene from GAPS Diet Journey also looked through the recipes, and found that 
20 of the recipes are GAPS legal as written
13 of the other recipes are easily modified by making simple ingredient substitutions
That's a total of 33 recipes that can be used by those on the GAPS Diet!
All This in a Flexible PDF File Format
Why is a pdf file such a terrific format? Because it is in a pdf file, this eBook is:
Instantly available for you to download, after purchase.
Immediately ready for you to view on your computer.
Or you can download it to your smart phone, if you like.
It can be emailed to your Amazon Kindle or other eBook readers.
The file is yours to print if you would like to make a personal copy to keep in a recipe binder.
Recipes from Forty-One High Quality Real Food Bloggers
Thanks to all of the following real food bloggers who made this book possible: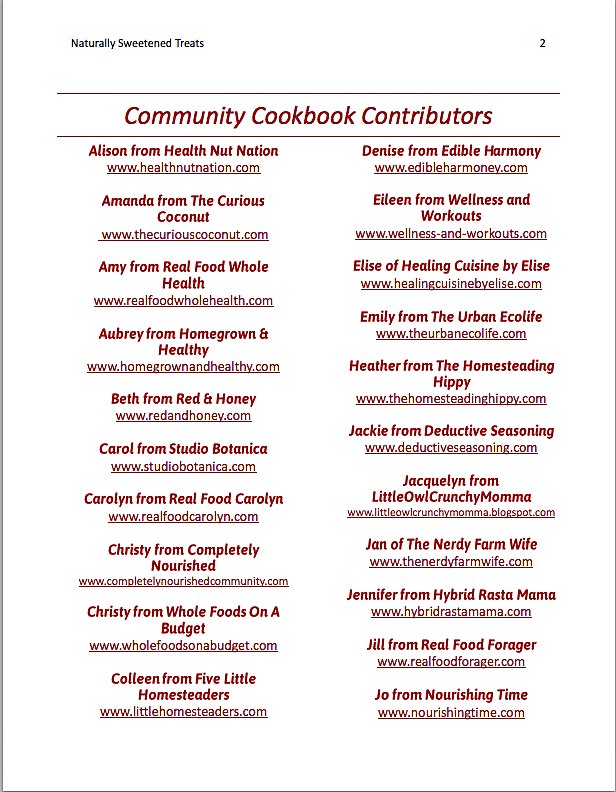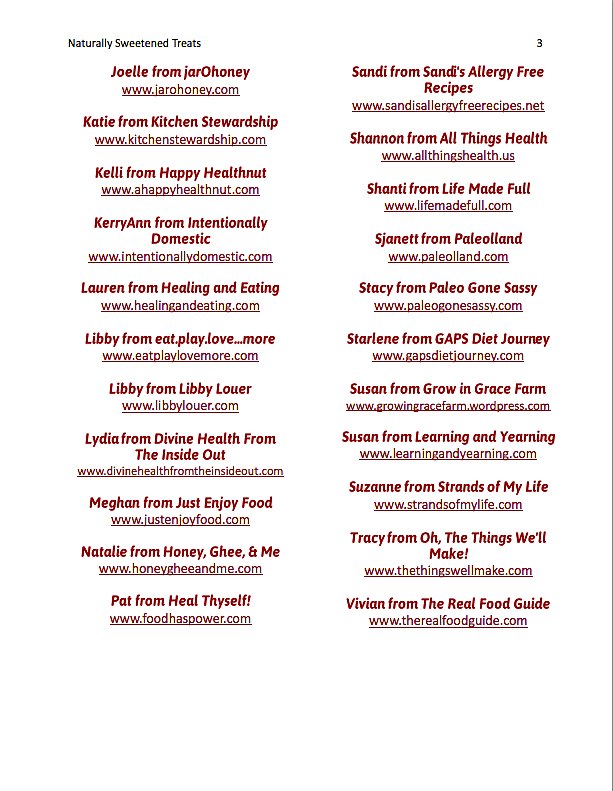 Return to Top of Naturally Sweetened Treats Community eBook
---
---