Lime Mint Smoothie
This lime mint smoothie packs a zingy, tangy refreshing punch! An easy healthy recipe for a delicious drink that's good for your body. If you're looking for weight loss smoothies, this is a great one!
You may have heard of lemon-lime smoothies, strawberry-lime smoothies, blueberry-lime smoothies, and even cucumber-lime smoothies--but have you ever had a lime mint smoothie? Based on the ingredients, I almost called this a mojito smoothie, but seeing that I've never had a mojito of any kind, I decided against it.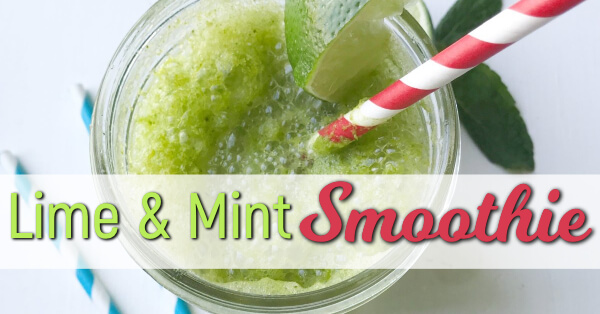 Low in Oxalates
I've created it to be a healthy low-oxalate and low-carotenoid drink. Some who drink green smoothies with dark leafy greens are at risk of problems such as kidney stones. Ya definitely don't want kidney stones! Ouch!

Low in Carotenoids
The low carotenoid aspect is great if you are trying to detox from too many retinoids in your body.

When we consume carotenoids, our bodies convert them into different retinoids such as retinol and retinoic acid. The body usually will store these retinoids in the liver to protect the rest of the body from their effects.

Once the liver becomes saturated with retinoids, then they may circulate in the body and cause all kinds of problems, especially symptoms associated with autoimmune diseases.

A man named Grant Genereux has written about this in more detail, I highly recommend the ebooks he has written and made available at no cost on his blog.

In other words, if you suffer from symptoms of vitamin A toxicity, such as autoimmune conditions, eczema, etc., this is a great, flavorful drink for you to try as part of your detox protocol! 

Health Benefits
Let's talk about the health benefits of the ingredients...
Health Benefits of Lime
Limes are a good source of potassium, vitamins B, C and D, calcium and magnesium. Lime water, which is the basis of this recipe, can improve the skin, help digestion, help with weight loss, and more. All good things! And it tastes delicious, too!

Mint's Health Benefits
Mint is also known to aid digestion, and according to this article from Medical News Today may actually also help reduce symptoms of asthma, allergies, and even soothe the common cold. But it's not all about just the health benefits. This mint drink recipe tastes delicious, the way the mint and lime flavors blend.

Health Benefits of Iceberg Lettuce
It's been given a bad rap in recent years, but iceberg lettuce actually has some great things going for it! Iceberg lettuce provides potassium, manganese, iron, calcium, magnesium, phosphorus, plus other trace minerals. I prefer to use iceberg lettuce rather than romaine because it is likely lower in carotenoids, but romaine is still also a good option.
The Importance of Filtered Water
When going to the trouble of making food and drinks to benefit your health, be sure you're not undoing all your good work with contaminated water. Most cities in the United States medicate the water with fluoride. Fluoride is a halide, it's in the same column of the periodic table as iodine, which is a nutrient vital to every cell in your body.

When you ingest fluoride, because it is similar in shape to iodine, it can displace the iodine that each cell needs to function properly.

It is a proven neurotoxin. In recent large studies conducted by the United States and Canada, its neurotoxic effects have been proven more strongly than ever.
So do yourself a favor and use water filtered by reverse osmosis, or distilled water, when making this lime mint smoothie.

Other kinds of water filters may improve the flavor and remove other contaminants, but you really want the excess fluoride removed too. It's very important, as fluoride builds up in your body over time and can affect your thyroid health, breast health, reproductive health, brain health and more.

(I used to recommend a Berkey Water Filter for drinking water, and still have an empty one to use in case of emergency, but have learned that in order for it to effectively filter out fluoride, you not only need to have special fluoride filtration cartridges, but the water must be at an optimal pH level for the filtration media to be effective at removing the fluoride.

Also, I learned that the filter medium in the Berkey fluoride filtration cartridges is made of activated alumina--it supposedly will not put aluminum in the water, but I am skeptical.

It was necessary for me to research this in depth as our well water has tested very high in natural fluoride. We decided to go with a bone char filtration system for our property-wide water, and use reverse osmosis water for drinking and cooking.)
Ya gotta taste this smoothie!
Even though I created this for those of us on the Vitamin A Detox Diet, it is really so delicious, no one will know it's supposed to be for any special diet. After letting most of my kids taste it, I had a couple of them arguing over who would get to drink up the rest of it!

Disclosure: We may receive a commission if you purchase through links in this post.  
We are a participant in the Amazon Services LLC Associates Program, an affiliate advertising program designed to provide a means for us to earn fees by linking to Amazon.com and affiliated sites. For more information, see our disclosure page.

Lime Mint Smoothie
By Eileen, February 28, 2020


This lime mint smoothie recipe packs a zingy, tangy, refreshing punch! It tastes great and is low-carb.
Prep Time: 15 minutes
Cook time: N/A
Keywords: lime mint smoothie
Yield: 1 serving
Recipe Category: snack
Recipe Cuisine: American
Tags: Paleo, Gluten Free
Ingredients
3-4 leaves of iceberg or romaine lettuce
1 Tablespoon of fresh mint leaves
juice of 1 lime
1 1/2 cups filtered water
1 1/2 cups ice cubes
liquid stevia or other natural sweetener to taste

Instructions
Add lettuce leaves, mint, lime juice and water to a blender. Blend well. Then add sweetener to taste. Once it tastes right, add the ice cubes and blend some more. Serve.




Nutrition:
Serving size: 1, Carbohydrates 3 g, Protein 0.3 g, Fat 0.1 g, Saturated fat 0 g, Cholesterol 0 mg, Sodium 7 mg, Fiber 0.6 g, Sugar 0.6 g



---
---