How to Make a Smoothie -- Twelve Enticing Ways!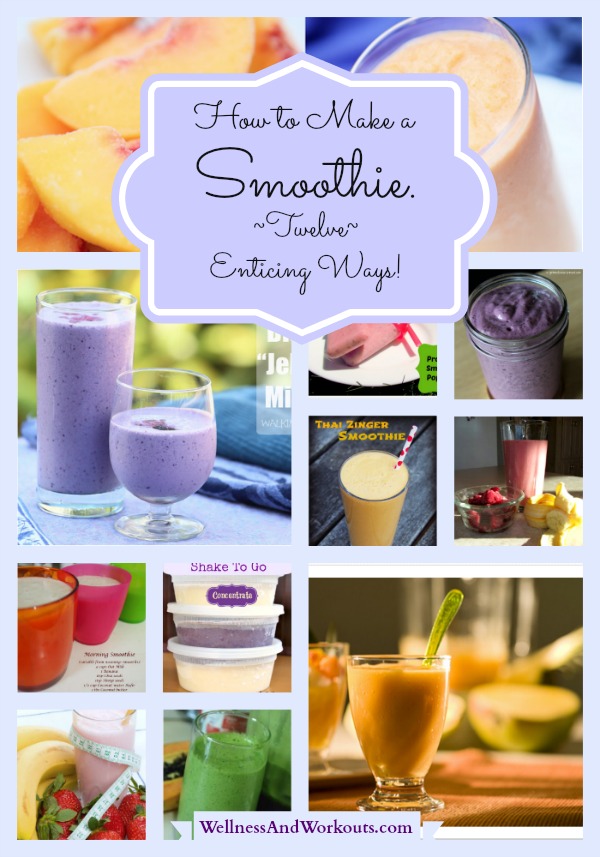 How to make a smoothie? I am so glad you want to know! A smoothie is one of the fastest and easiest foods you can learn to make for yourself. In most cases, making a great smoothie is just a matter of finding a really good recipe that fits your taste and health requirements. Then, add the ingredients in a blender or Vita Mix, (I love my Vita Mix!) and blend. To help you get started, I've assembled this list of smoothie recipes from some of my favorite friends who blog.
I've included links to each of their recipes, and categorized them by whether they contain dairy or not, to help you find the best ones for you.
Disclosure: We may receive a commission if you purchase through links in this post.  
We are a participant in the Amazon Services LLC Associates Program, an affiliate advertising program designed to provide a means for us to earn fees by linking to Amazon.com and affiliated sites. For more information, see our disclosure page.

---
I've also added Facebook like buttons for each of these highly likeable bloggers, so please, before you click away to read the recipes, why don't you scroll down this page and click each of their "like" buttons. Then, when they publish new recipes you will see them right away in your Facebook newsfeed!
Here, as an example, is a button to click to like my Wellness and Workouts Facebook Page:
Please click like, if you haven't liked my page already. I would love to stay in touch with you!
Like Wellness and Workouts on Facebook.
You did click it, right? Good. Now, please do the same for my friends, as you move down the page to find smoothie recipes! Let's get back to how to make a smoothie...
---
Non Dairy Smoothies (9 Recipes)
---
Strawberry Banana Smoothie Recipe--GAPS/SCD
Strawberry banana smoothie recipes are one of the most popular types of smoothies that people search for online. And it is no wonder! It is a classic flavor combination, and I think it is yummier than ever with a coconut milk base!
Cherry/Blueberry Coconut Smoothie Recipes--GAPS/SCD/Trim Healthy Mama [S] or [S-Helper]
This basic recipe, and variations of it on this page, are some of our family's tried and true smoothie recipes. It is not only free of refined sugars, if you make it with enough berries, it can be made with as few as three ingredients! It is one of the best recipes to use when you are just learning how to make a smoothie. Check out these coconut smoothie recipes!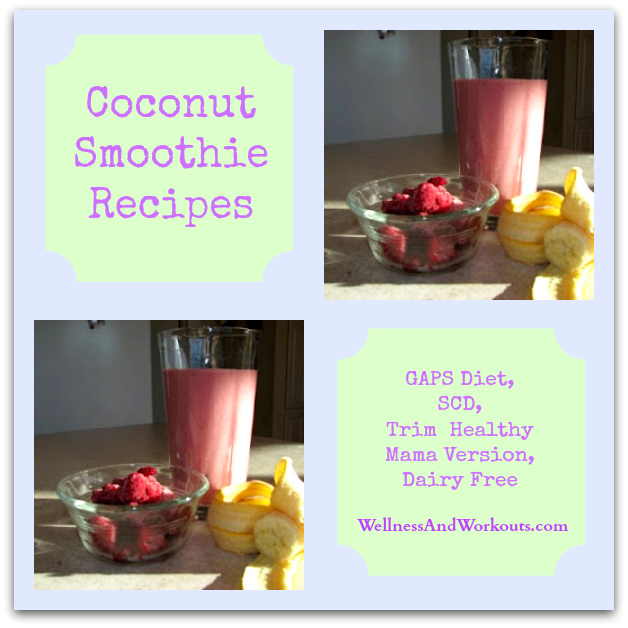 ---
---
This recipe is from Debbie at Walking in Light. It is dairy free.
Peaches & Cream Smoothie--THM [E]
When Debbie first created this recipe, the color was not quite as "peachy" as she would have liked. Click through to learn the secret, healthy "food coloring" she used to give her peaches & cream smoothy more color!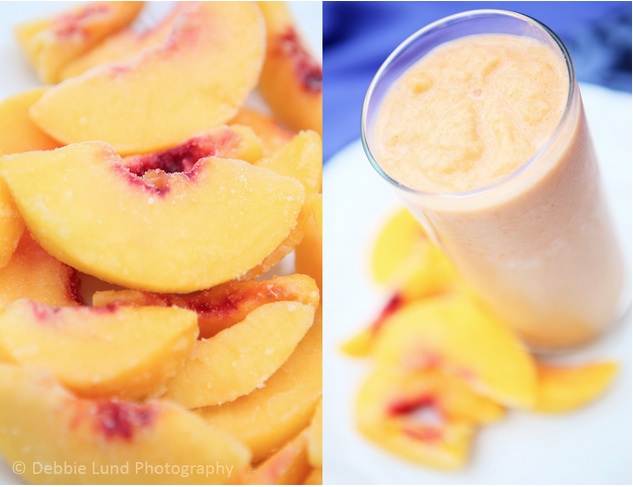 ---
---
Like Small Footprint Family on Facebook.
Tropical Paradise Smoothie
Do you like tropical flavors? If so, this is the smoothie recipe for you! Dawn from Small Footprint Family has a fun little story of how she created this smoothie. Click through to learn how you can make this tropical fruit smoothie recipe yourself!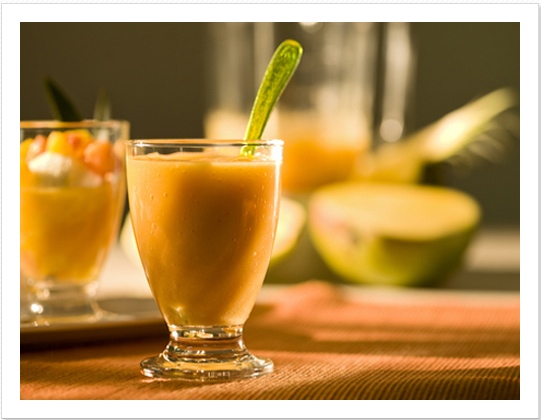 ---
---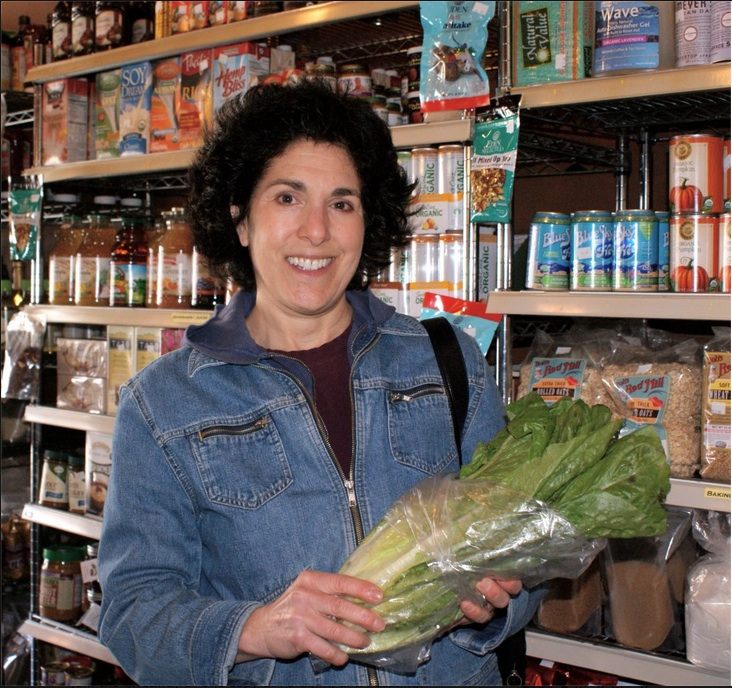 Like Real Food Forager on Facebook.
Shake to Go--GAPS/SCD
Jill from Real Food Forager is not your everyday run-of-the-mill blogger. She is a Clinical Nutritionist/Chiropractor with a  specialty in healing diets such as SCD (Specific Carbohydrate Diet) and GAPS (Gut and Psychology Syndrome) as well as Paleo and Primal. 
She travels the world a fair amount, and sometimes has trouble finding the most basic smoothie ingredients. Click through to read how she has found a way to have smoothies every day, no matter where her travels take her, with her ingenious shake to go method.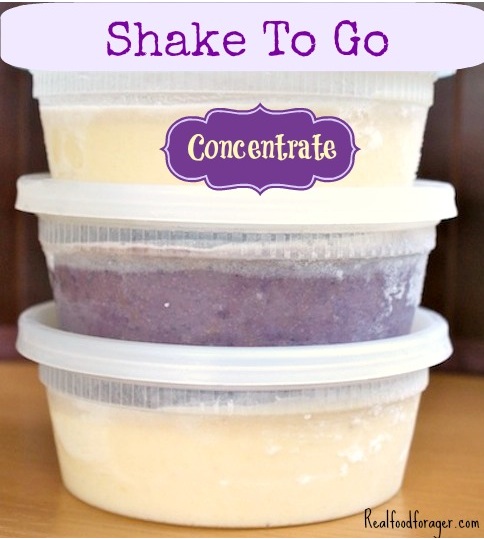 ---
---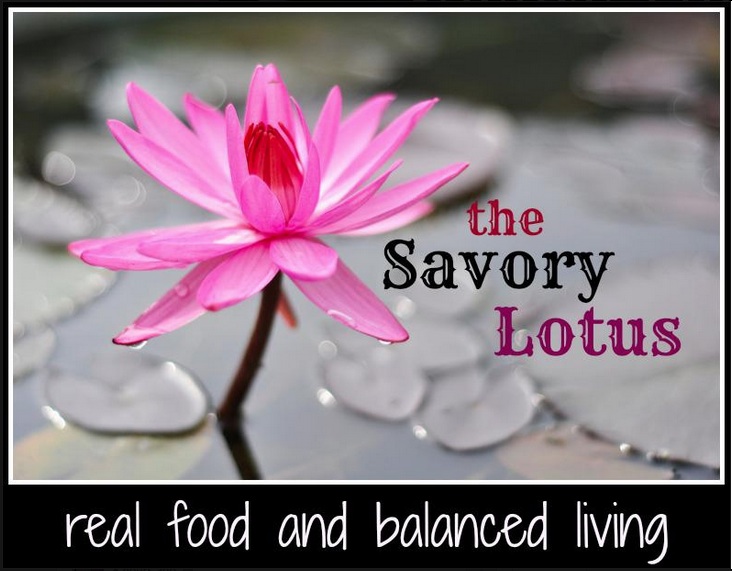 Like The Savory Lotus on Facebook.
Thai Zinger Smoothie
The Savory Lotus blogger Katja is another world traveler. I enjoyed reading about her upbringing and how she was inspired to formulate this recipe. If you like Thai flavors, this might just be the recipe for you. Click here now to try her Thai Zinger Smoothie!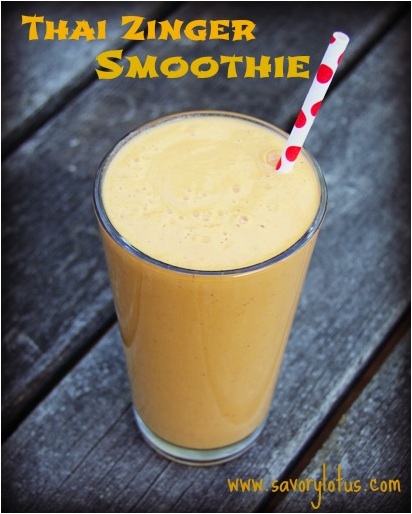 ---
---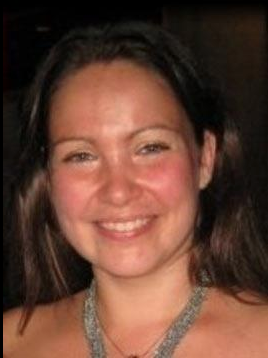 Like Loula Natural on Facebook.
When I read the testimonials page for Louise's Loula Natural website, I was impressed with how much she has helped people with their health. She was generous enough to share these three non dairy smoothie recipes.                                                                                                   
Morning Smoothie--Non Dairy, Includes Grains
Click through to read how Louise packs lots of nutrients into these morning smoothies for her family.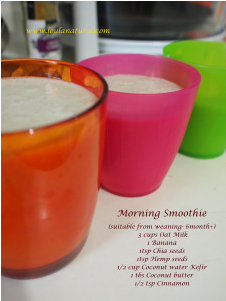 Pumpkin Smoothie--Non Dairy, Includes Grains
Here is another variation of Loula Natural's morning smoothie--the pumpkin smoothie!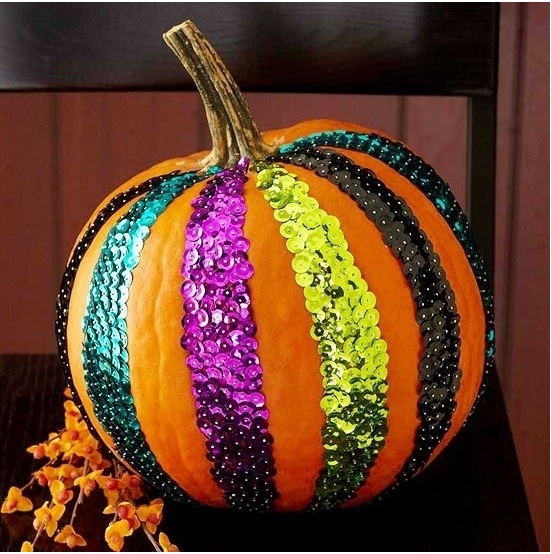 How to Make a Green Smoothie
For those who need less structure than the usual recipe provides, here is a how to make a smoothie strategy for creating your own nourishing green smoothie recipes. The name is a mouthful: the "Its not easy being green till you know how" smoothie!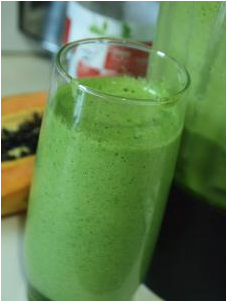 ---
Smoothie Recipes that Contain Dairy (3 Recipes)
---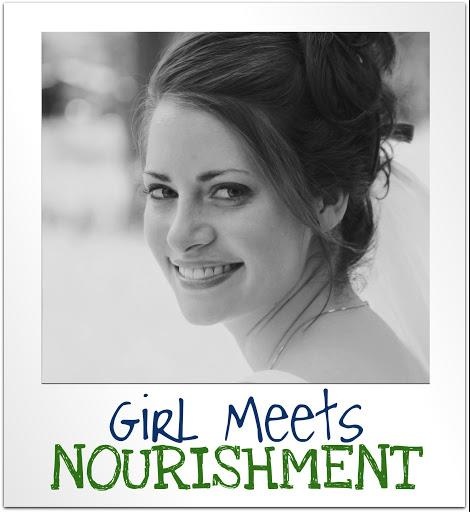 Like Girl Meets Nourishment on Facebook.
Probiotic Rich Blueberry Banana Kefir Smoothie with Avocado!
Katie from Girl Meets Nourishment has created this probiotic rich smoothie full of wholesome, healing ingredients. Click through to learn how she is using the probiotics in this recipe to help heal her gut and clear her skin of eczema.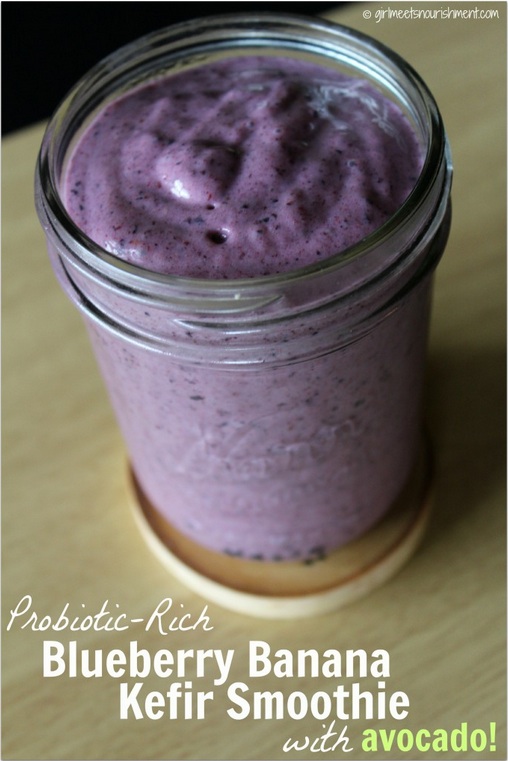 ---
---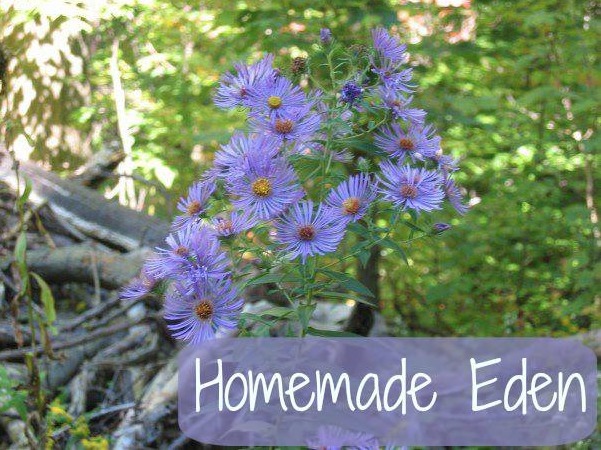 Like Homemade Eden on Facebook.
Probiotic Smoothie Popsicles
Sara from Homemade Eden (formerly "A Joyful Mother") has come up with a fun way to serve smoothies and probiotics to children--probiotic smoothie popsicles! Click through to read how she does it!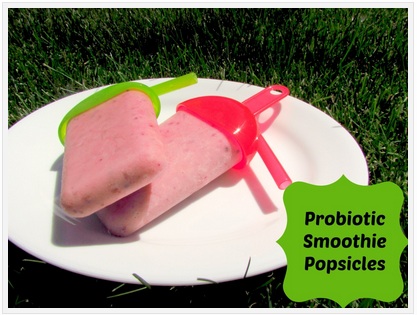 ---
---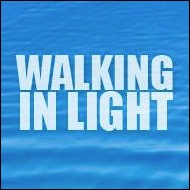 The Walking in Light Blog is no longer on Facebook.
Debbie of Walking in Light and I go way back. I met her right after my mom brought her home as a baby from the hospital. We've been friends ever since! She is a wife, mom, and award-winning professional photographer in southern California who has just started branching out with her photography skills into blogging.
She is eating according to the Trim Healthy Mama food plan, and both of these recipes are tailor-made for that program.
Blueberry "Jelly Bean" Milkshake--THM [S]
Yes, it is called a Blueberry Jellybean Shake, but in my book, it is a smoothie. And don't worry, it does not contain any refined sugar or candy. It just may taste like it, though! Click through to learn how it got this name.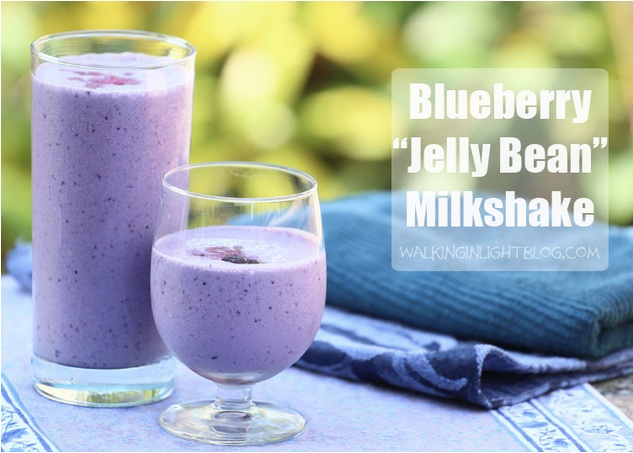 ---
---
How to Make a Smoothie--Conclusion
Well, as you can see from these twelve recipes, it can be easy to learn how to make a smoothie. Which ones do you want to try first? Please leave a comment, below, and let me know! And be sure to visit our Facebook pages, and say "hello" or leave comments there! We want to hear from you!
Postscript...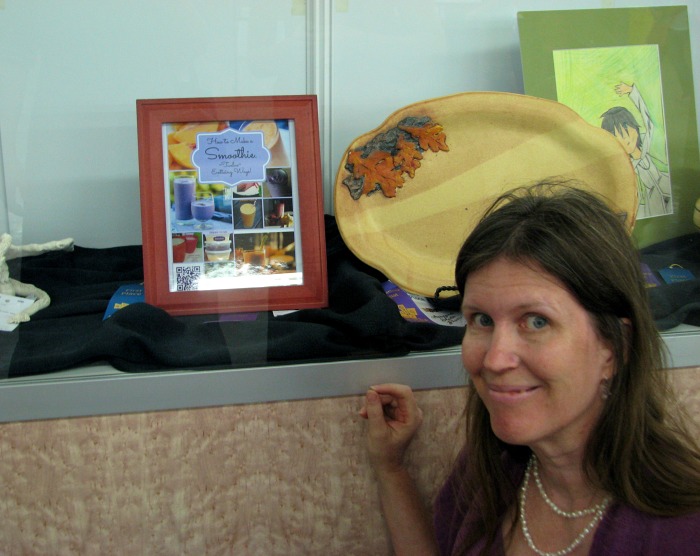 After I first posted this page, I entered the collage I made in the 2013 Arizona State Fair, in the graphic design category of the fine arts department. Guess what? I won a blue ribbon for it. Woo hoo! :) All six of our kiddos entered various categories, too (some of them cleaned up with prize money, which they enjoyed), and I entered two other things. A set of ceramic coasters, that won a second place ribbon, and a painting (acrylic) that won an honorable mention. Check out this healthy truffle recipe that won a ribbon!
This post is a part of Unprocessed Fridays at Girl Meets Nourishment, and Wellness Wednesdays at Intoxicated on Life.
Return to top of How to Make a Smoothie
Wellness and Workouts
› How to Make a Smoothie
PAID ENDORSEMENT DISCLOSURE: I may receive monetary compensation or other types of remuneration for my endorsement, recommendation, testimonial and/or link to any products or services from this blog. Also, we are a participant in the Amazon Services LLC Associates Program, an affiliate advertising program designed to provide a way for us to earn fees by linking to Amazon.com and affiliated sites.
---
---