Coconut Oil Must Haves
My Coconut Oil Must Haves!
Coconut oil is one of the most wonderful, multi-purpose substances I have ever come across. It has brought so many blessings to my family! You can use it just by adding coconut milk (which of course naturally contains coconut oil) to make coconut milk smoothies for weight loss. Or you can just make lots of other delicious smoothie recipes, like a simple cherry coconut smoothie. It can help enrich breast milk for nursing moms, and help boost metabolism. But there's only one problem: once you learn a bit about coconut oil, you want to learn more about it. And do more with it! 
That's where my list of coconut oil must haves comes in. Here is a my list of what I think every coconut oil lover should have: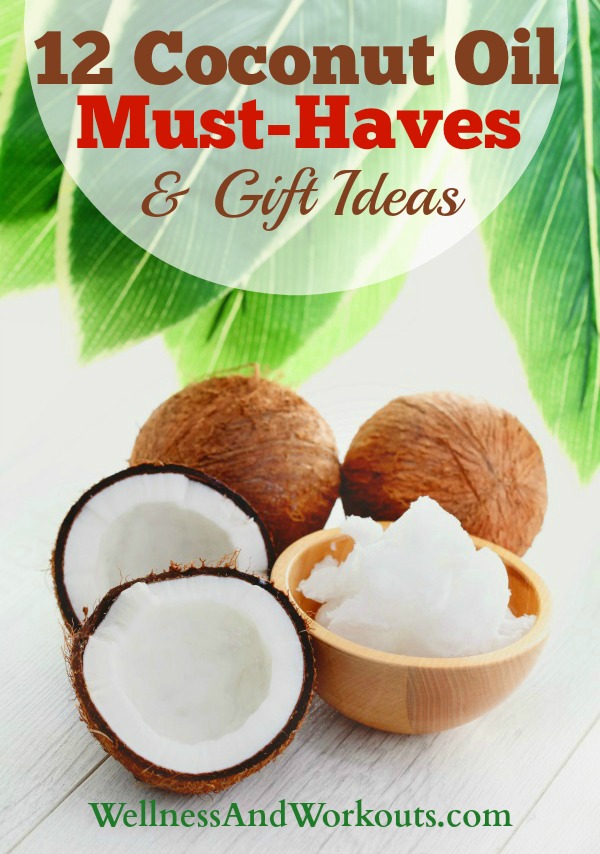 Disclosure: We may receive a commission if you purchase through links in this post.  
We are a participant in the Amazon Services LLC Associates Program, an affiliate advertising program designed to provide a means for us to earn fees by linking to Amazon.com and affiliated sites. For more information, see our disclosure page.

Coconut Oil Must Haves--the Basics
1. Good quality coconut oil, of course! Skip the cheaper brands and find a good one. 

I remember one day, when my 15-year-old was a tiny baby, wandering in to my local health food store and asking questions of the salesperson there. He told me about this wonderful product, called coconut oil, and encouraged me to try a jar for health reasons. So I bought one. Then I walked down to a nearby grocery store, and bought a less expensive jar of coconut oil. When I came back to return the pricier jar, I got a polite but firm education on the difference between different kinds of coconut oil. So I kept the good stuff, and began my journey.
Soon after, I discovered Tropical Traditions brand coconut oil. One thing I really like about them is all the wonderful information they provide about coconuts and coconut oil. And now, they test for glyphosate, to ensure there is none in their virgin coconut oil. I really appreciate that!
I learned there are basically three kinds of coconut oil.


First, cheap copra oils which have been refined, bleached and deodorized, sold in discount grocery stores. You don NOT want to buy these oils, at least not for food, health or beauty reasons. Maybe if you need a lubricant for a mechanical device of some kind?
Second, high-quality expeller pressed oils, which are good for cooking and baking.
Third, the best quality coconut oils, which are called virgin coconut oil. (Nope, there's really no such thing as "extra-virgin coconut oil." If you see that term, it is either just a marketing gimmick, or a sign that the person who created the label does not know much about coconut oil.) 


But this description really just scratches the surface. You also need to beware of hydrogenated coconut oil, and more.
You can learn more about types of coconut oil, and many great uses for it in...
2. The Coconut Oil Miracle by Bruce Fife. This is the first book I bought about coconut oil, and is terrific! I read it from cover-to-cover just after I started using coconut oil, and still have it. 

Coconut Oil Must Haves: Cookbooks
3. Why a coconut flour cookbook, for a coconut oil lover? Because when you bake with coconut flour, you're getting to eat the coconut oil that is naturally contained in the flour. If you want to try baking with coconut flour, and try to convert a wheat flour recipe, or even a grain-based gluten free flour recipe, to using coconut flour, it is *extremely* difficult. I did manage to convert a favorite pumpkin cookie recipe to a coconut flour recipe, to create my gluten-free/paleo pumpkin chip cookie recipe, and it took many, many tries to get it right (not to mention help from my oldest daughter, who, growing up baking with coconut flour, is a whiz at this stuff!). 
So generally it is much better to just find a new coconut flour recipe for an old favorite rather than trying to convert a recipe, unless you have a lot of extra time and money.

If you do have your heart set on converting any wheat flour recipes, or just want a larger collection of coconut flour recipes, you'll want to get...

4. Baking with Coconut Flour by Starlene Stewart.

Starlene blogs over at GAPS Diet Journey and has a tremendous amount of experience baking with coconut flour. Even though I've been baking with it for a very long time, I learned quite a bit that I didn't know when I read it.

I'm very grateful that she took the time to share her knowledge in this fantastic ebook! 
5. A great book of recipes for Healthy Homemade Candy, so even your sweet treats can help boost your metabolism! 
My oldest two daughters wrote this ebook, so I feel funny gushing too much over it.

Here's what Megan from Eat Beautiful said about the book on her Facebook page last year:

"December is a super fun time to be in the kitchen making candies and cookies, even (and especially) when you're Paleo or doing the GAPS diet! This ebook is just $7 and allows you to make yes, GAPS and Paleo candy. Cool ingredients?~ some of the recipes use cultured yogurt/sour cream! and some use gelatin... A very cool collection created by two sisters who were on the GAPS diet for years. They developed these recipes for their own sanity (and enjoyment), and then wanted to share them. Look at their page to see what the cookbook offers: caramels, truffles, white chocolate, marshmallows and more."
Of course, there are lots of great times to make candy at home, including Valentine's Day, Resurrection Day, during the Fall, and just any time you want some candy! 
More Kitchen Must Haves for Coconut Oil
6. A Wonder Cup! What is a wonder cup? It's a measuring cup that works with both liquid and solid coconut oil--it helps eliminate waste, as it self-scrapes all the oil out! This is a small item, but for me, a BIG one of my coconut oil must haves!
7. One of the fastest, easiest and most enjoyable ways to consume coconut oil is to make smoothies! So, a good blender, strong enough to blend coconut oil into smoothies, is a wonderful thing to have, of course! (If you've tried to add coconut oil to a smoothie before, you may know that it can harden when you add it to a cold smoothie mixture.)

So having a great blender is a plus. This is the kind I have, and I'm glad we sprung for it. 
8. A good skillet, for frying and sautéing foods in coconut oil. Coconut oil has a high smoke point, it is one of the safest oils to use with high heat.
9. A good spoon or spatula, for stirring food sautéing in the coconut oil...
10. A stoneware oil keeper, to strain and store your oil between uses.
Coconut oil must haves for the Bathroom...
The bathroom is a great place to use coconut oil!

11. If you're the DIY type, Natural Beauty from DK Books is a gorgeous collection of safe and natural beauty recipes in a hardcover book. I just got this very recently--it is hardcover, and absolutely beautiful, full of full-color photos and great ideas. I love it!!! An ideal gift for any coconut oil lover--your friend, mom, sister, daughter, or yourself!
More coconut oil must haves...
Oh, and I've thought of more "must-haves." Here's one too important to leave off...
Top Quality Essential Oils
12. Once you get some good DIY recipes, you'll need the highest quality essential oils, but you don't want to overpay for them.
Contrary to what many essential oil zealots may tell you, there are a number of high quality sources for top quality, pure essential oils. Please don't get duped in to paying too much by clever marketing tactics and made-up phrases. The term "therapeutic grade," for instance, is highly misleading, please don't get sucked in by companies that have no 3rd party certifications or outside accountability.
And one more book!
This book is full of amazing stories of the uses and benefits of coconut oil, plus over 85 recipes to get you started cooking with coconut oil! A definite member of my coconut oil must haves list!

My personal coconut oil must haves
So now you've seen my list of coconut oil must haves. I'm sure you can think of some of your own! What did I miss? What would you add to YOUR list of coconut oil must haves? Tell me in the comments, below!

---
---