Adzuki Bean Recipe - Hummus Dip
Looking for a savory adzuki bean recipe that tastes great? This is a fantastic remake of traditional hummus dip--with adzuki beans, instead!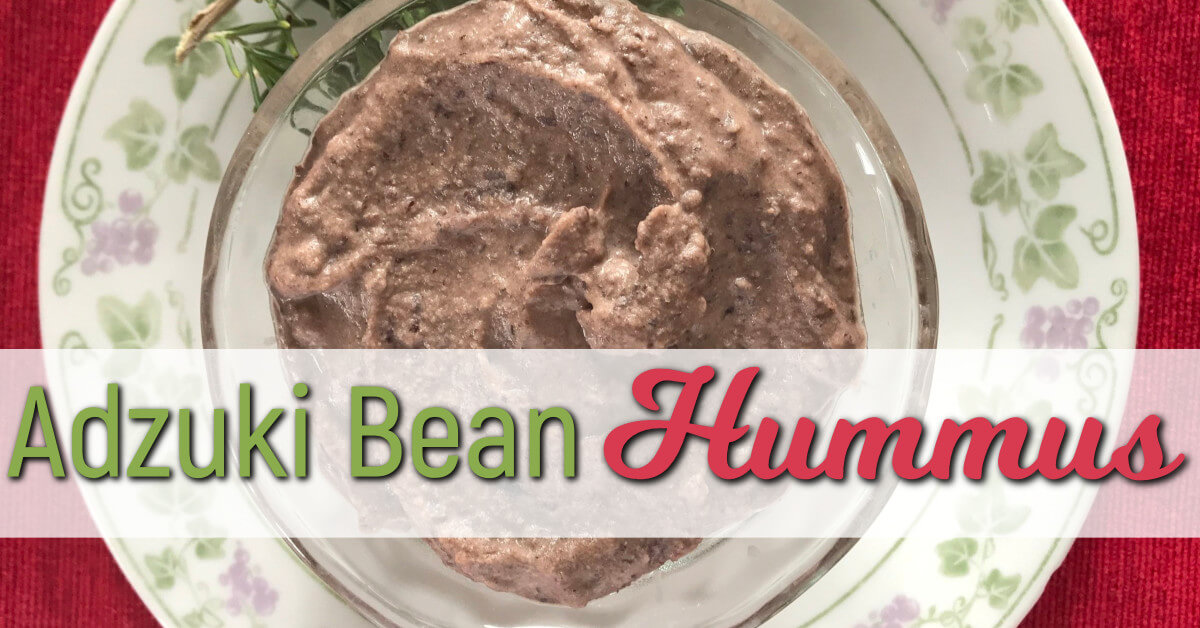 Disclosure: We may receive a commission if you purchase through links in this post.  
We are a participant in the Amazon Services LLC Associates Program, an affiliate advertising program designed to provide a means for us to earn fees by linking to Amazon.com and affiliated sites. For more information, see our disclosure page.

An Easy, Healthy Hummus Recipe
Why make hummus with adzuki beans instead of chickpeas (aka garbanzo beans)? 
In my case, as much as I love traditionally made hummus, I find that adzuki beans agree with me better. I think it might be because of the cooler energetics of adzuki beans, because lentils, also a bean with cooler energetics, seems to agree with me more than most other beans, too.
(And by agreeing with me better, I mean that when I eat too many energetically warming foods, I wake up more easily at night, feeling overly warm, and have trouble falling back to sleep. When I eat foods that are more neutral or cooling, I sleep better. Digestively, I currently do fine with most types of beans.)
A savory healthy snack
If you're looking for a way to incorporate more of the great health benefits and nutrients that come with adzuki beans, this is a fantastic way to make them in a way that has no sugar added. (Many traditional adzuki bean recipes use it as a sugary paste, as a dessert filling. They sound delicious, but they would add way too much sugar to my daily diet!).
Adzuki Beans Nutrition
According to Healthline (1), adzuki beans are packed with fiber (especially soluble fiber!), protein, complex carbs, vitamins, and minerals such as manganese, phosphorus, potassium, copper, magnesium, zinc, iron, thiamin, vitamin B6, riboflavin, niacin, pantothenic acid, and selenium. 
Are beans good for detox?
In a word, yes. Beans can be amazing for helping the body detoxify. It is not an overnight process, however.
If you are someone suffering from symptoms of retinol toxicity (aka hypervitaminosis A), then beans need to become your new best friend. They are a big part of the Vitamin A detox protocol, and this recipe can be a helpful tool for bringing a wider variety of foods into your diet. (For best results on the program, reduce or eliminate the sesame tahini, as the less fat you eat with your beans, the better able they will be to absorb bile that needs to be removed from your digestive system.)
For more details about the vitamin A detox, search for Dr. Garrett Smith online. He has the most clinical experience of any practitioner I'm aware of with this protocol and has helped me tremendously.
Benefits of fiber
This recipe is great for anyone who wants to get more soluble fiber into their diet. The benefits of a high-fiber diet, according to the Mayo Clinic (2), include the normalization of bowel movements, maintenance of bowel health, reduced cholesterol levels, help with controlling blood sugar levels, aiding in achieving a healthy weight, and possibly even helping you live longer. Wow!

A Healthy Snack Idea
When to make this recipe? Anytime you have some cooked or canned adzuki beans on hand, this recipe can be whipped up fast. You can have it as a healthy snack, appetizer or side-dish.
One great thing about this recipe is that once you've cooked (or bought canned) beans you can make it anywhere you have a blender, electricity, and the ingredients. 

What are adzuki beans?
Adzuki beans are also known asa aduki beans, Azuki beans, and red mung beans. As dried beans, they look like little brownish-red beans with a white strip on them.

Where are adzuki beans from?
They are originally from Northeast Asia and are usually red, though there are varieties in other colors. The ones here in the United States markets that I've seen have all been reddish-brown so far. 

Where can I buy adzuki beans?
You can find canned adzuki beans here, and dried adzuki beans here. I always start with dried beans that I cook in an Instant Pot, but having some canned beans on hand would be very convenient.
Where can I buy tahini?
You can get the sesame tahini, which is just basically "sesame seed butter," here.
How to cook adzuki beans in an Instant Pot
To cook adzuki beans in an Instant Pot (an electric pressure cooker), rinse 4 cups of dried adzuki beans. Drain and add the beans to the pot. Add 12 cups of filtered water. Secure the lid with the pressure valve pointed to the "sealing" setting. 

Turn the Instant Pot on, press "manual," and set the pressure to the "high" setting for 30 minutes. Once done cooking, let the steam release naturally before carefully turning the steam vent to depressurize.
Once the Instant Pot has fully depressurized (the little peg lowers down to its original position) carefully turn the lid and open. 
FYI, for timing purposes, my Instant Pot takes about 15 minutes to heat up, then the 30 minutes I set it to cook, and then I wait at least 10 minutes before releasing the steam from the vent and opening, for a total time in the appliance of 55 minutes.
Adzuki Bean Recipe - Hummus Dip
By Eileen, Originally Published May 11, 2020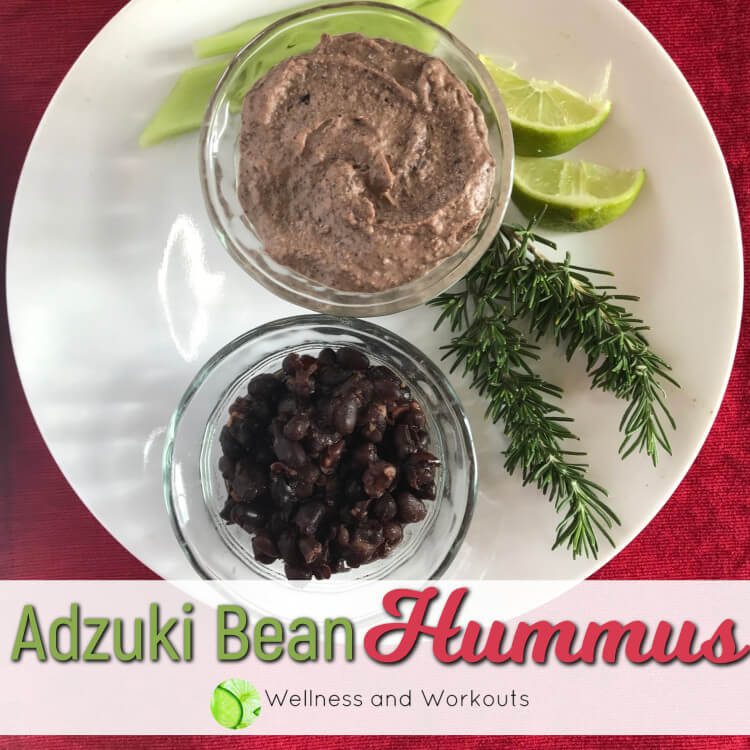 This adzuki bean recipe, a hummus-dip, will give you a deliciously savory way to eat adzuki beans and get all the superfood nutrition and soluble fiber in a delicious way.
Prep Time: 15 minutes
Cook time: 1.5 hours
Keywords: adzuki bean recipe
Yield: 8 servings
Recipe Category: appetizer
Recipe Cuisine: Fusion
Tags: Gluten Free, Dairy Free, Vitamin A Detox Diet
Ingredients
1 3/4 cups Adzuki Beans, cooked and drained
3 Tablespoons Sesame Tahini
1/4 - 1/2 cup lemon juice
1 clove garlic (optional, omit for Vitamin A detox)
1/8 teaspoon ground cumin
1/2 teaspoon pure white sea salt
filtered water (optional, add to adjust the texture if needed)

Instructions
Place all ingredients in a blender or mason jar (if using an immersion or stick blender). Turn on the blender and puree well. If a thinner consistency is needed to blend, or desired, add a bit of water and blend more.

Serve with organic celery sticks, organic white corn chips, or serve as a side dish with your favorite meats and vegetables. Enjoy!


Nutrition:
Serving size: 4, Carbohydrates 57.5 g, Protein 19.3 g, Fat 6 g, Saturated fat 1 g, Cholesterol 0 mg, Sodium 307 mg, Fiber 12.1 g, Sugar 0.3 g



References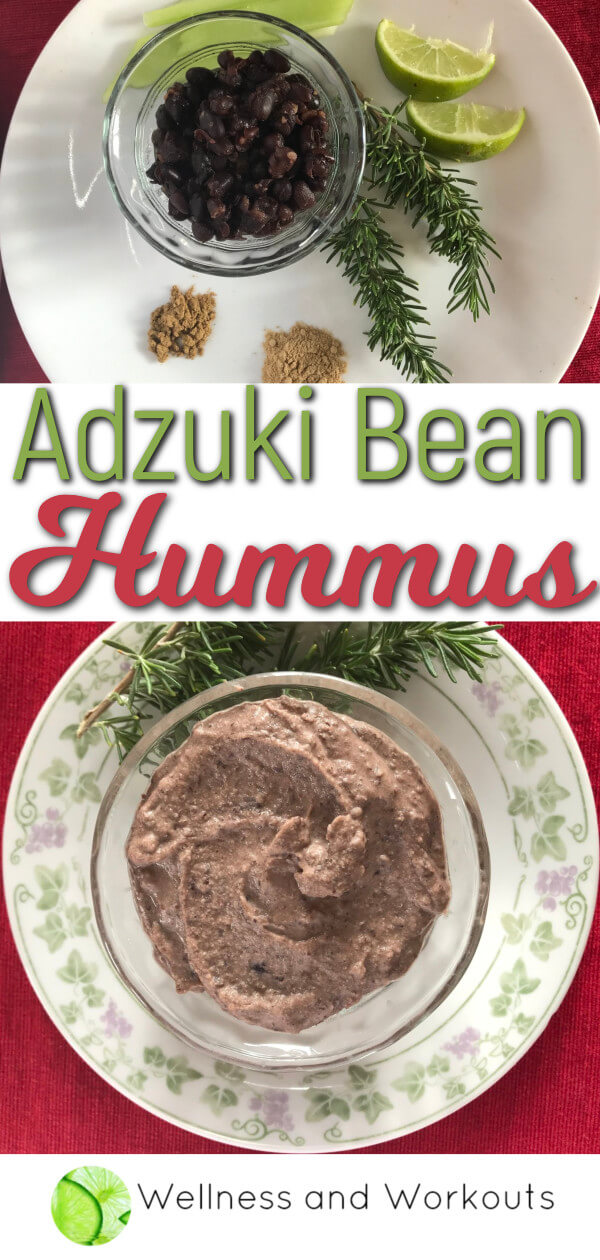 ---
---