Buffalo Cauliflower Bites
Buffalo Cauliflower Bites
Buffalo cauliflower bites—what a concept! I love it when recipes combine two of my very favorite foods or dishes into one. 

Disclosure: We may receive a commission if you purchase through links in this post.  
We are a participant in the Amazon Services LLC Associates Program, an affiliate advertising program designed to provide a means for us to earn fees by linking to Amazon.com and affiliated sites. For more information, see our disclosure page.

This version comes from Dr. Karen S. Lee, of the blog of the same name.
It's from her gorgeous new cookbook, Paleo Cooking with your Air Fryer. 
What is an Air Fryer?
What is an air fryer, you ask? That was my question when my husband came home from work one day and announced there's this thing called an air fryer, and they're great and we should get one. My husband is a gifted cook, as are many of his colleagues in the fire department where he has worked for over 23 years. He said I should get one. But I didn't really understand why. I don't recall what recipe(s) he said he wanted to use one for, but it wasn't something that sounded as amazing to me as Buffalo cauliflower bites! Basically, and air fryer cooks foods in a convection-oven like way, making many foods that are traditionally deep fried but it uses far less oil. 
And that's where he lost me. Far less oil? We'd been through our decades of the delusion that fat is the enemy, and had already overcome the myth that a low fat, high carb diet was the only way to eat to be healthy. Sure, it may seem to work for some people, at least for a little while, but the truth is that healthy fats are good and necessary to eat, and so I saw no need for an appliance that would make foods with less fat. As long as we eat healthy fats, like butter, ghee, olive oil, coconut oil, lard, avocado oil, etc., why avoid fat? 
Then Karen told me she was writing this cookbook. I was curious why, because I know Karen is well informed about nutrition. 
So I told her, "I don't fully understand what an air fryer does, or why it would appeal to someone who eats lots of healthy fats. Is cooking speed the main benefit?"
Karen's answer was so helpful. She said, "Some people can't eat deep fried foods (it bothers their digestive system even if the use good oil) but would love crispy texture. While air frying doesn't make food exactly like deep frying, it does make food as crispy as you can get. Also, when you don't use grains, it could be even tougher to make food crispy. I do use avocado oils on some foods but these recipes are grain FREE battered. And yes, it does cook food much faster since they are cooked in a wire basket with hot air circulating around it. So I have recipes that are roasted, baked, and fried in the book."

I knew right then I wanted a copy of her book. 
I'm happy to say Karen was kind enough to send me a copy of the book so I could review it for you. And share a recipe from it--Buffalo cauliflower bites. All opinions are my own. 
And now that I have her cookbook, I am DEFINITELY getting an air fryer! I know I'm going to use this cookbook A LOT once I get mine!
I want one without the unhealthy teflon coating in so many, so that narrows my choices quite a bit. Karen used the Philips XXL Air Fryer to create her recipes, and it has a stainless steel basket and serves 6 people. So that's a strong contender, as we have 8 people in our family. So it's almost big enough, lol.
Here's an excerpt from her cookbook with the Buffalo cauliflower bites recipe she created to make in an air fryer
Karen writes:
I went to college for two years in upstate New York where the locals ate Buffalo chicken wings by the barrel. I always wondered what happened to the rest of the chicken after serving all those wings. But I digress…These Buffalo Cauli-Bites are a take on the iconic food that made Buffalo, New York so famous. The wings are usually deep-fried and then mixed in hot butter sauce, but this recipe calls fro frying the cauliflower florets twice for better flavor. You can adjust the amount of hot sauce to your taste. And of course, you can use this recipe for chicken wings, too. 
Buffalo Cauliflower Bites, aka Buffalo Cauli-Bites
Cook time: 12 minutes
Servings: 2
Ingredients
1 head of cauliflower
1 Tbsp (15 ml) extra-virgin olive oil (EVOO)
2 Tbsp (10g) cassava flour (I use Otto's Cassava Flour), divided
4 Tbsp (60 ml) melted ghee
3 Tbsp (45 ml) Frank's Hot Sauce, plus more if desired
Ranch Dressing
1 cup (235 ml) Homemade Mayo (page 180 of Paleo Cooking with your Air Fryer)
1/3 cup (75 ml) full-fat coconut milk yogurt
1 tsp garlic powder
1 tsp onion powder
1/2 tsp sea salt
1 tsp apple cider vinegar
1 tsp dried dill
Directions:
Cut and discard the outer leaves and cut the cauliflower into florets. In a medium mixing bowl, mix the florets with EVOO and coat them with the cassava flour. 
Preheat the air fryer to 360 degrees F (180 degrees C).
When the air fryer is ready, shake off any excess flour from the florets., place them in the basket, and set the timer for 6 minutes. Meanwhile, combine the excess flour, gee and Frank's Hot Sauce in the same mixing bowl and set aside.
In a small bowl, make the ranch dressing by mixing all the ingredients, then refrigerate. When the timer goes off, transfer the florets to the mixing bowl and coat them well with sauce. Put the florets back in the basket and cook for 6 more minutes. Take them out when the timer goes off and add more Frank's Hot Sauce if needed. Serve immediately with the ranch dressing.
Learn more about the beautiful Paleo Cooking with your Air Fryer book here!
And once you try this Buffalo cauliflower bites recipe, let me know how it turned out!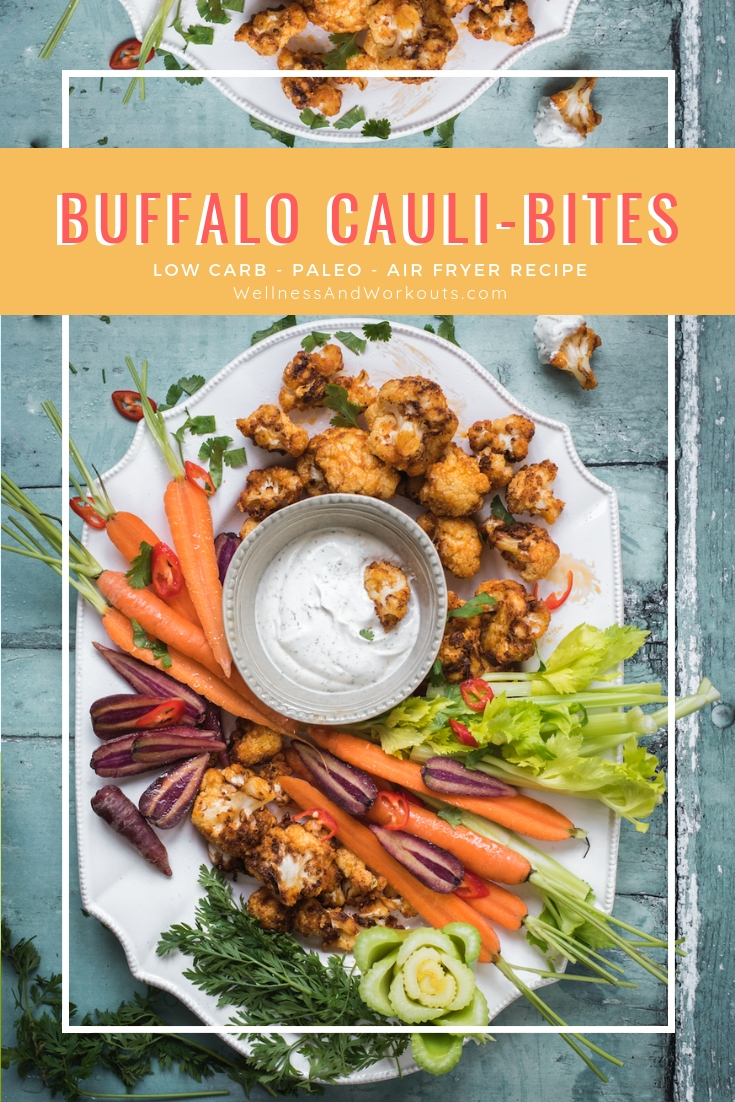 ---
---