Pumpkin Chocolate Chip Cookie Recipe

Social events. Ugh.
When you're eating Gluten Free or Paleo, social events can be so hard!
You see foods you might be able to eat, but there are no ingredients labels to tell you what's in the foods, so you need to skip them or risk feeling awful.
You order some food, maybe a salad, with no croutons, and eat half of it before you find croutons on the bottom of the salad. And then you have pain and cramps the rest of the night...
Or maybe you're new to gluten free eating, and absentmindedly pick up a slice of pizza or a cookie sitting on a plate and start munching--yikes!
Not to mention cross-contamination. Well meaning friends--or even professional chefs--make "gluten free" food for you on a surface that had wheat flour on it. 
People try, but don't understand the issue. A friend might actually bring you a gluten free treat she made at home--like "gluten free" muffins. But she uses spray oil with wheat flour to prepare the pans, instead of paper liners. Ack!

I understand. I've been there!
Disclosure: Some links on this page may be affiliate links meaning, at no additional cost to you, I may get a commission if you make a purchase. Thanks for your support in this way!

So what's the answer for social events?!
For our family, it's simple. 

We bring our own food.
And when bringing your own food, it's always more fun to bring something really special. Like this pumpkin chocolate chip cookie recipe!
With mouth-watering chocolate chunks in a scrumptious, grain-free pumpkin cookie, what's not to love?
If you bring these to share, you might want to reserve some for yourself, off to the side. These are that delicious. They will disappear fast!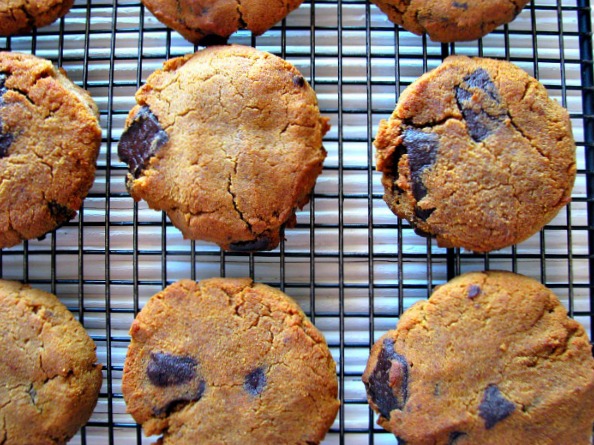 Click "Next" now, to get this Amazing Recipe!
PAID ENDORSEMENT DISCLOSURE: In order for me to support this website, I may receive monetary compensation or other types of remuneration for my endorsement, recommendation, testimonial and/or link to any products or services from this blog. Thanks for understanding!
---
---