How to Make Sauerkraut--Probiotics for Less Money!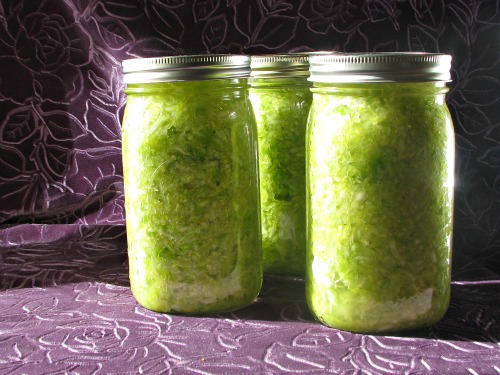 If you want to know how to make sauerkraut, the simplest and best way is by making fermented sauerkraut. This will let you experience all the great benefits of sauerkraut. It is a food that is loaded with probiotics, but is much less expensive than probiotic supplements! Once prepared, it will take a few days to a couple of weeks till it is ready to eat.
Disclosure: Some links on this page may be affiliate links meaning, at no additional cost to you, I may get a commission if you make a purchase. Thanks for your support in this way!

Here are the details--how to make sauerkraut:
First, find a good recipe for making sauerkraut. Our basic recipe just calls for one Tablespoon of sea salt per one medium head of green cabbage. 
Clear off a large, clean counter or table top. Wash and dry some glass jars and lids in hot, soapy water. Or wash in a dishwasher. Rinse well, dry, and keep them clean till ready to fill.

Get a grater or a food processor with a grating blade. We use a Cuisinart food processor.

Get some very large mixing bowls.

Rinse, core and shred the cabbage. Place shredded cabbage in a large bowl. Add either sea salt or whey. Mix together. Cover the cabbage with a dish cloth or tea towel and let it sit for 30 minutes. The salt will pull some of the juice from the shredded cabbage, and it will become soggy.

Mix the cabbage some more. Taste the brine, and adjust the salt and any additional seasonings to taste. 

Once the brine tastes right to you, salty, but not too salty, fill the jars most of the way with the shredded cabbage and brine.

Make sure to leave about an inch of space at the top of the jar. Also, be sure the cabbage is fully submerged under the liquid. If some of it pops above the liquid, that cabbage on top will not ferment. If that happens accidentally, just scrape off the top layer and discard. 

If you have trouble keeping the cabbage low enough, you can buy little weighted discs to sit on top of the cabbage. Or, if you have some river rocks, you can clean and sterilize them in boiling water. Then sit them on top of the cabbage.

As the sauerkraut ferments, it is best if you open the jar each day to release the gasses from the jar. This way, it won't build up pressure inside.

Your kraut will ferment in 3-5 days at room temperature. If fermenting in a cooler place, it can take up to two weeks to be ready to eat. Once done, the jars can be refrigerated or kept in a cool, dark place till you are ready to eat it. We make a lot at a time, and often let ours sit in a cabinet at room temperature for weeks or even months. This makes it more sour, but we have still enjoyed eating it.

Return to top of How to Make Sauerkraut
Wellness and Workouts
› How to Make Sauerkraut
PAID ENDORSEMENT DISCLOSURE: In order for me to support this website, I may receive monetary compensation or other types of remuneration for my endorsement, recommendation, testimonial and/or link to any products or services from this blog. Thanks for understanding!
---
---