Best Apple Crisp Recipe | Paleo Apple Crisp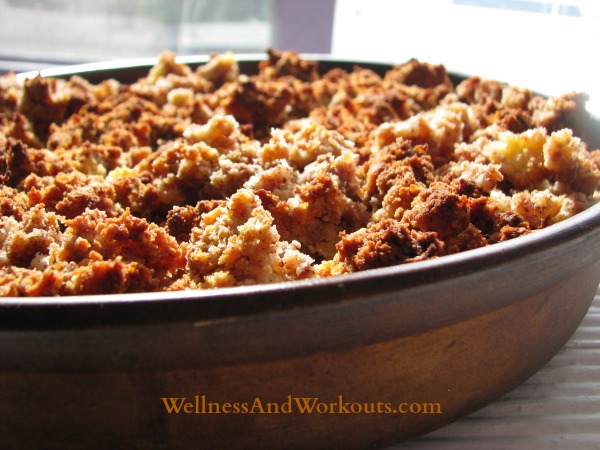 Disclosure: Some links on this page may be affiliate links meaning, at no additional cost to you, I may get a commission if you make a purchase. Thanks for your support in this way!

Best Apple Crisp Recipe
5 Granny Smith Apples (this kind of apple is firm and works best with the apple peeler corer slicer. If you really want to use a softer apple, put them in the freezer for about 10 minutes before slicing them up.)
1/2 cup coconut oil, melted (I get Nutiva brand from my local Costco. If that won't work for you, you can also find coconut oil here)
1 cup chopped nuts (optional)
1 cup coconut flour, sifted
1 cup unsweetened shredded coconut
4 large eggs
2-3 Tablespoons honey, (or more to taste, perhaps mix the topping without the eggs, sweeten to taste, and add the eggs last and mix well) (I get my honey from a local beekeeper.)
3/4 teaspoon salt (I like to use this salt)
2 Tablespoon cinnamon
(optional) full fat coconut milk, sweetened to taste with honey
Preheat oven to 350 F. Peel, core and slice apples. I used an apple peeler corer slicer, to get the slices thin and even (which is key for having evenly baked apple slices).  Once you have peeled, cored and sliced each apple, you will have one long spiral of apple in the shape of a sphere. Cut each apple spiral in half with a utility knife to create lots of little wedges. Place apples in an 11 inch stoneware deep dish baker.
Warm coconut oil in a pan, if not already melted. Chop nuts, if using them. I like to use my food chopper to chop nuts quickly. Add nuts, coconut oil, coconut flour, flaked coconut, honey, salt & cinnamon into a large bowl. Mix well, and taste if desired. Adjust honey to taste. Then add eggs, and mix till it all gets crumbly. Sprinkle mixture evenly over apples. Be sure to cover apples completely, to seal in the juices and keep the apple slices moist!!! 
Bake 35-45 minutes or till apples are tender and crumbs are golden brown.

Serve warm, with optional whipped coconut cream, homemade ice cream, or just pour some sweetened, full fat coconut milk or cream over top. Yum!
Get more delicious Gluten Free/Paleo recipes like this to feel better! Click "next" now!
You Might Also Like...
PAID ENDORSEMENT DISCLOSURE: In order for me to support this website, I may receive monetary compensation or other types of remuneration for my endorsement, recommendation, testimonial and/or link to any products or services from this blog. Thanks for understanding!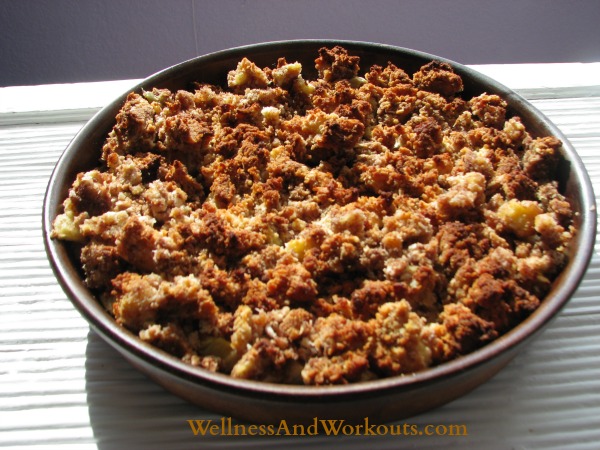 All photos for this recipe are by Julia of ReformStead.
---
---